Ready to Succeed?
Don't "diet", instead, Transform Your Life! We offer meal plans with recipes that taste GREAT! Enjoy your food, live your life, and reach your goals!

Learn More
Healthy Recipes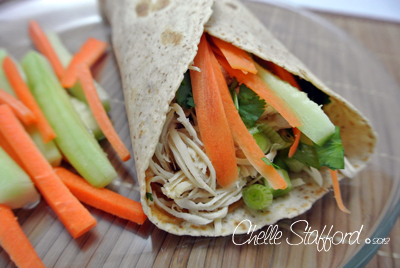 Looking for a fast but flavorful high-protein meal?

Here's a recipe that can go wherever you do. Make it up the night before, or in the morning before you head out the door.
Thai Chicken Wrap

by Chelle Stafford
Makes 1 Wrap

Ingredients:

5 oz shredded slow-cooker chicken (drained of liquid)
1 burrito size wrap/tortilla (I like La Tortilla Factory Low Carb, High Fiber tortillas)
1 Tbsp natural peanut butter
¼ large cucumber, peeled, seeds removed and sliced into sticks
2 Tbsp carrot, peeled (see Tip below)
½ cup shredded cabbage
2 Tbsp chopped green onion
*optional: 1-2 Tbsp sweet & spicy mustard

Directions:

Spread peanut butter over the tortilla.
Layer with cabbage, chicken, cucumber strips, carrot and green onion.
Top with sweet & spicy mustard, if desired.
Roll and serve, or roll and wrap in plastic wrap and refrigerate.

Tip
Peel carrot, then using peeler, continue to peel slices of carrot. Store unused in plastic baggie in fridge – add to salads, stir-fry's, etc.


Nutrition
Per wrap (using La Tortilla brand):
349 calories, 41 g protein, 26 g carb, 15 g fat.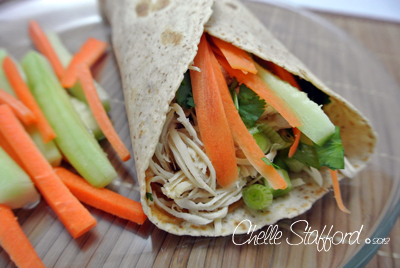 As seen in World Physique Magazine Women, Spring 2012