Ready to Succeed?
Don't "diet", instead, Transform Your Life! We offer meal plans with recipes that taste GREAT! Enjoy your food, live your life, and reach your goals!

Learn More
Healthy Recipes
Summer Steak Tart
"This is a fabulous way to use those fresh summer veggies! With a greek yogurt base on puff pastry, it's layers and layers of veggies, herbs, and proteins! Easy to prepare ahead of time, too! "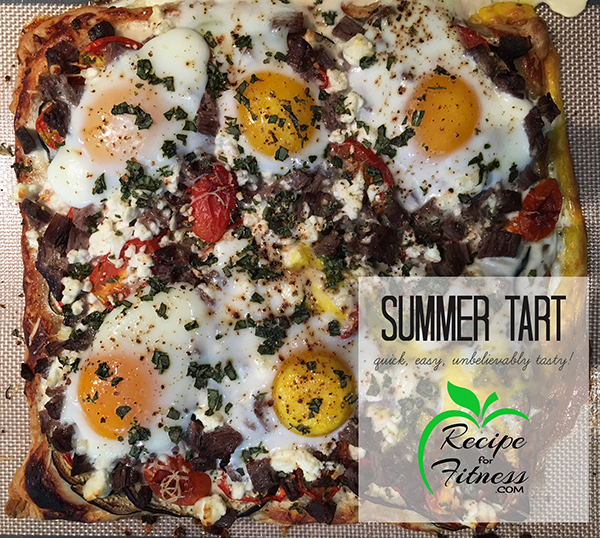 Serves 6
Ingredients
1 sheet puff pastry
1/3 cup plain greek yogurt, full fat*
2 Tbsp milk
3 Tbsp parmesan, fresh grated
1/4 tsp sea salt
1/4 tsp black pepper, ground (more to taste)
1 very small eggplant, thinly sliced
1 small red pepper, thinly sliced
8 cherry or grape tomatoes, halved or sliced
3 oz grilled, lean steak (I used leftovers from a previous meal)
1 tsp fresh thyme*
1 tsp fresh oregano*
1/2 tsp fresh basil*
6 large eggs, raw
3 Tbsp crumbled feta
Directions
Preheat oven to 375 degrees
Thaw 1 sheet of puff pastry and place on parchment or silpat lined baking sheet. Roll it out smooth.
Gently turn up and roll the edges into a small crust.
Finely chop the herbs, then divide in half.
Thinly slice, then dice the cooked steak. Set aside.
Thinly slice the eggplant and red pepper. Halve or slice the tomatoes.
In a small bowl, mix together greek yogurt, milk, parmesan and a sprinkle of sea salt & pepper to taste.
Pour mixture into the center of the pastry and spread evenly.
Layer veggies over the yogurt mixture.
Sprinkle half the herbs over the tart.
Bake at 375 degrees for 15-20 minutes, until veggies are softened and pastry crust is mostly cooked. Remove from oven.
Evenly spread the steak over the tart.
Sprinkle 3 Tbsp crumbled feta over the top.
With a spoon, create six wells evenly over the tort. Make them deep and wide enough to contain an egg.
Crack an egg carefully into each well.
Sprinkle the remaining herbs.
Add a touch more sea salt and cracked pepper over the top.
Return to oven and bake for about 20 minutes - until pastry is no longer raw and eggs reach desired doneness. I prefer soft set - whites fully cooked, yolks soft).
Remove from oven and allow to rest for 5 minutes.
Slice into 6 pieces.
Serve.
Nutritional Information
Amount Per Slice Calories: 290 | Total Protein: 15 g | Total Carbohydrate: 22 g | Total Fat: 17 g | Total Fiber: 3 g | Total Sodium: 410 mg

NOTES:
*To prepare ahead, after the first baking, allow tart to cool, then cover and refrigerate until ready to finish. When ready, preheat oven, add the steak, feta, eggs, and herbs. Continue as per the recipe.
**About full fat - I chose to use full fat greek yogurt and cheeses. You can significantly reduce fat and calories by switching to fat free greek yogurt and reduced fat cheeses. (**Unless you are trying to get pregnant - then ONLY use whole/full fat dairy)
***Herbs - I used fresh herbs from my garden (the veggies, too!), but you can certainly use dried if that's what is available.