Ready to Succeed?
Don't "diet", instead, Transform Your Life! We offer meal plans with recipes that taste GREAT! Enjoy your food, live your life, and reach your goals!

Learn More
Healthy Recipes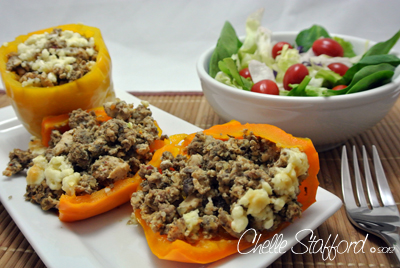 Looking for a fast but flavorful high-protein meal? This recipe is quick, easy, and very low-carb! Pair it with a salad for a complete meal!

Steamed Stuffed Peppers

by Chelle Stafford


Serves 5

Ingredients:

5 large bell peppers, any color
½ lb lean ground beef, raw
1 lb ground chicken breast, raw
1 Tbsp Mrs Dash Southwest Chipotle
1-2 Tbsp minced onion, dried
8 oz mushrooms (I like Crimini), minced
5 Tbsp Feta, crumbled
5 Ziploc Steamer bags


Directions:

Brown together the ground beef, ground chicken and minced mushroom with Mrs Dash and minced onion. Drain to remove excess fat.
Divide the mixture between the 5 large bell peppers.
Top each with 1 Tbsp feta.
Place peppers in steamer bags (1 per bag) and seal.
Toss in refrigerator until ready to use.
When ready to serve… place bag in microwave, cook on high 5 minutes. Allow to rest 1 minute then remove to plate and serve.

NUTRITION
Per pepper: 236 calories, 33 g protein, 11 g carb, 7 g fat.