Ready to Succeed?
Don't "diet", instead, Transform Your Life! We offer meal plans with recipes that taste GREAT! Enjoy your food, live your life, and reach your goals!

Learn More
Healthy Recipes

Looking for a fast but flavorful high-protein meal? This recipe is quick, easy, and very low-carb! Training Diet Friendly!
Chelle's Clean Spring Rolls

by Chelle Stafford
Serves 1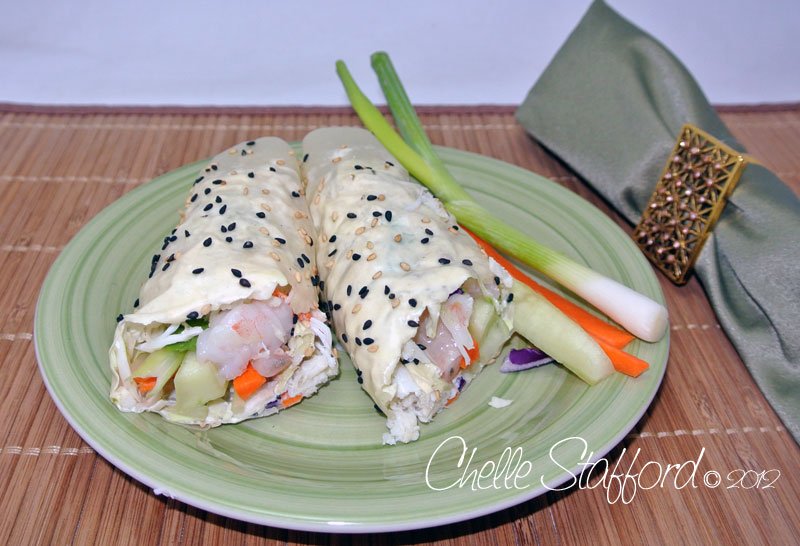 Ingredients:

1 wrapper (see note below)
1 tsp cream cheese
wasabi powder
2 Tbsp shredded cabbage
1/4 of a carrot, peeled and sliced into sticks
1/4 of a cucumber, peeled and sliced into sticks
1/8 of an avocado, sliced
1 green onion (spring onion), sliced
3 oz shrimp, cooked (tail removed)

Directions:

Chop vegetables.
In a small glass bowl, mix together wasabi powder and a small bit of hot water. Allow to rest for 5 minutes. Add cream cheese and mix well.
Lay wrapper flat and spread cream cheese wasabi. Layer: shredded cabbage, carrot, cucumber, avocado, green onion and then shrimp.
Roll up wrap, slice in half and enjoy!

NUTRITION
Per wrap (recipe makes 1 wrap): 166 calories, 22 g protein, 6 g carb, 5 g fat, 2 g fiber.
NOTE: Spring rolls can be made with a variety of wrappers - my personal favorite is made from Tapioca flour/starch. There are also rice flour wraps, and the ones I used in the recipe here - soy wrappers - found in the asian aisle at Whole Foods.