Slow Cooker Split Pea and Ham Soup
Perfect for chilly days, this soup is comforting, filling, flavorful, and HEALTHY!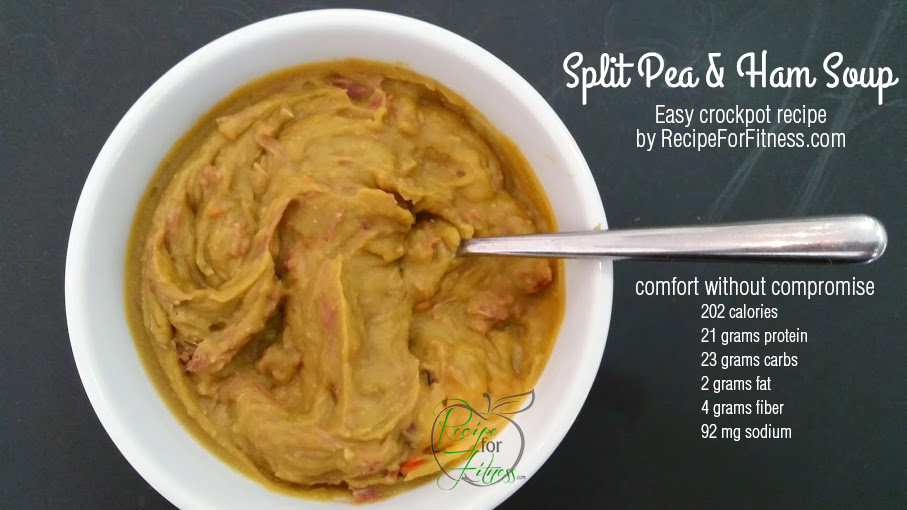 Preparation Time: 15 minutes Total time: 7 hours
By Chelle Stafford, December 3, 2014
Serves 12

Ingredients:
1 lb dry split peas,
8 cups Chicken Bone Broth* (see note below),
2 small carrots, peeled and diced,
1 medium yellow onion, diced ,
1-2 stalks celery, diced,
1.5 Tbsp garlic, minced,
4 sprigs fresh thyme,
2 bay leaves,
2 ham hocks (ask your butcher if you don't see them in the meat case),

Instructions:
Rinse peas in water, removing any funky ones. These don't need to soak, just rinse.
Place ham hocks in slow-cooker (I like to use a crockpot liner to save on cleanup).
Place peas in slowcooker, add 8 cups broth, diced onion, diced carrots, diced celery, and stir gently.
Place sprigs of thyme and bay leaves on top.
Cover and cook on low about 7 hours, or until the meat is falling off the ham hock.
Remove ham hocks and shred the meat off. Reserve bones for dogs if desired (our Sadie LOVES this!)
Using an immersion blender, carefully blend crockpot contents until it reaches desired smoothness (usually just a minute). Soup is HOT, so please be careful you don't spatter yourself (or your kitchen, not that that's happened to me or anything). Add meat back to slowcooker. Stir.
Serve.

*Note
Bone broth is a fabulous new product Pacific Foods has introduced - though it can be hard to find, it's worth the effort! Much higher in protein (and "cleaner") than regular broth, it's an absolute wonder! If you cannot find it, feel free to substitute lower sodium chicken broth (like Imagine or Pacific brands)
When Reheating, there is no need to add liquid - though the soup is solid in a cold state (think 'slice' of soup), it will re-liquify up on heating. If it's still too thick for your taste, go ahead and add a bit of broth, water, or milk to reach your desired soupy-ness.