Ready to Succeed?
Don't "diet", instead, Transform Your Life! We offer meal plans with recipes that taste GREAT! Enjoy your food, live your life, and reach your goals!

Learn More
Healthy Recipes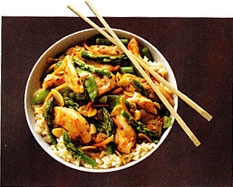 Women's Health Magazine, Jan/Feb 2010 had this recipe (view page). It was plenty for 3 of us, and then I looked at the recipe and saw it was a serving of 1! Way too much food for one person. The recipe is perfect for 2 with leftovers, or 3 with no leftovers. Also, I prepped the brown rice, veggies & meat (sliced it and put it in a baggie) on Sunday, then we had this on Monday night. It was super fast to put together and very tasty.

The Recipe... Pg. 74

Spicy Chicken Stirfry

Ingredients:
● 2 tsp peanut oil
● 1/4 tsp red pepper flakes
● 2 boneless chicken breasts, cut into strips
● 1/3 cup asparagus tips
● 1/3 cup thinly sliced carrots
● 1/4 medium onion, cut into bite size pieces or strips
● 1/3 cup frozen snow peas (I used fresh, and added sugar snap peas)
● 1 Tbsp sliced almonds
● 1 tsp reduced-sodium soy sauce, gluten free

Directions:
● Combine peanut oil and red pepper flakes in a hot skillet.
● Add chicken strips and cook for 2-3 minutes, stirring frequently.
● Add all remaining ingredients to the pan and cook for another 2-3 minutes, stirring often.
● Serve over brown rice.

Nutritional Information:
Makes 1 serving. Per serving: 428 cal, 18 g fat (3g sat), 20 g carbs, 505 mg sodium, 7 g fiber, 48 g protein.