Ready to Succeed?
Don't "diet", instead, Transform Your Life! We offer meal plans with recipes that taste GREAT! Enjoy your food, live your life, and reach your goals!

Learn More
Healthy Recipes
Santa Fe Chicken Bowl
"This recipe is sure to become a staple - it's simple, full of flavor, and easily customized to your nutritional needs. It's quick to put together with a few common pantry ingredients, and with the use of the crockpot, this meal becomes super convenient. You can even prep the chicken and the rice ahead of time (like on your food prep day), and the rest is literally opening a couple cans, chopping a few things and tossing it all together. Make the full batch, and use the leftovers for tasty lunches the rest of the week. See the tips at the end for customization ideas. "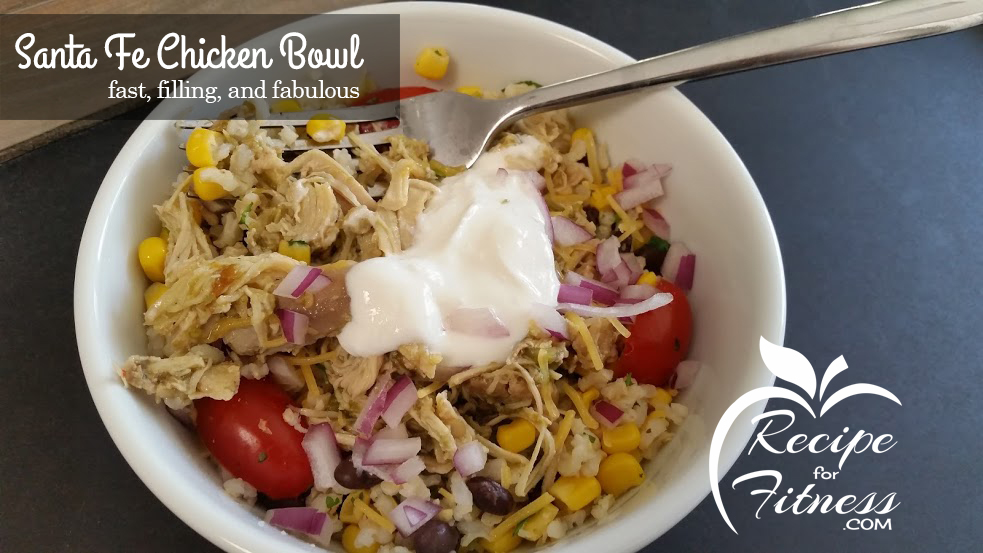 Serves 8
Directions
Place chicken (breasts or thighs) in crockpot.
Add 1 16-oz jar salsa verde (I use 505 brand which is simply jarred green chili).
Cook on high 4 hours, or until chicken shreds easily.
Remove chicken to a bowl, scoop green chili from crockpot into chicken (discard remaining liquid). Shred.
Meanwhile, cook brown rice (either in Chicken Bone Broth or in water).
Drain. Add cooked rice to large bowl.
Add drained and rinsed black beans, and drained and rinsed corn with chilies and peppers.
Add chopped cilantro, juice of 1 lime, and mix well.
Serve with chicken on top of rice mix.
Top with plain greek yogurt, cherry tomatoes, avocado, diced onion, sliced black olive and/or a sprinkle of shredded sharp cheddar if desired.
Serve.
Nutritional Information
Amount Per Serving Calories: 282 | Total Protein: 30 g | Total Carbohydrate: 35 g | Total Fat: 4 g | Total Fiber: 5 g | Total Sodium: 530 mg
Net carbs: 30g

NOTES:
This makes fabulous leftovers, so portion out any into serving size containers for tomorrow's lunch.
TIP:
Reduce carbs by eliminating or reducing brown rice. You can also replace the rice with quinoa for a more complete carb/protein profile.