Ready to Succeed?
Don't "diet", instead, Transform Your Life! We offer meal plans with recipes that taste GREAT! Enjoy your food, live your life, and reach your goals!

Learn More
Healthy Recipes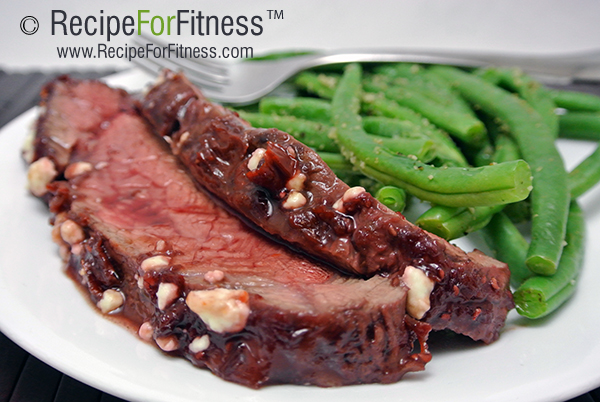 This marinade is fabulously versatile - use it on steak, pork, turkey, chicken... whatever! AND... it's competition diet friendly! Woot! Plus - best of all... it tastes amazing! My kids are begging for more! (for those of you who are Eating Clean, and not on comp diet - substitute a fruit-only spread for the sugar free preserves... the nutritional info below shows data for the recipe both ways).


Raspberry Chipotle Grilled Steak
serves 6 (reduce or increase recipe as needed)

INGREDIENTS
2 lb London Broil Steak (or other lean cut)
1 small can Chipotle Peppers in Adobo Sauce (check label for gluten if necessary)
1 jar Sugar-Free* Red Raspberry Preserves (10-12 oz) OR 1 jar Fruit-Only Red Raspberry spread (10-12 oz)
1/4 cup crumbled Feta Cheese
Spray Oil

DIRECTIONS
Preheat Grill
Remove seeds from 5 peppers and discard seeds. (see tip below)
Mince peppers
Scoop contents of jam jar into a bowl, add peppers and mix well. Taste - if you want more heat, mince up more peppers
In a glass pan, marinate the steak in 1/4 cup of the raspberry/chipotle mixture for 20 minutes
Spray grill with oil, cook steak, basting every few minutes with a bit more sauce
Reserve 2 Tbsp of sauce, and proceed to next step:

INDOOR GRILL: Before meat is cooked through, preheat oven to broil and remove steak to a pan. Top with remaining sauce and the feta. Broil until cheese is lightly golden. Remove from heat and allow to rest 10 minutes before slicing.

OUTDOOR GRILL: When meat is almost cooked through, add remaining sauce and top with feta. Grill until cheese is lightly melted. Remove from heat and allow to rest 10 minutes before slicing.

*TIP: If you like onion, use the chopped onions that are in the adobo peppers can, too! They're very flavorful!

NUTRITION
Sugar-Free Version: 255 calories, 36 grams protein, 19 grams carbs, 7 grams fat, 268 mg sodium, 12 grams fiber, 0 grams sugars. 7 grams net carbs.

Clean Version (no added sweeteners, preservatives, fillers): 319 calories, 36 grams protein, 26 grams carbs, 7 grams fat, 268 mg sodium, 1 gram fiber, 20 grams sugars (all natural sugar from the fruit).