Ready to Succeed?
Don't "diet", instead, Transform Your Life! We offer meal plans with recipes that taste GREAT! Enjoy your food, live your life, and reach your goals!

Learn More
Healthy Recipes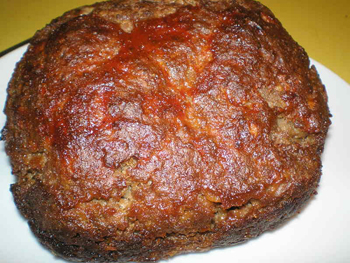 Needing a quick but man & family friendly dinner, I threw this together and was happy to get the thumb's up from Bill & the kids :-) I serve it alongside smashed potatoes (see below) & steamed green beans.

Meatloaf and

Smashed Potatoes

Recipe makes 6-8 Servings

Ingredients:
● 2 lbs lean ground beef
● 5-6 large Crimini (brown) mushrooms, chopped fine
● 1/2 cup chopped colored peppers (I use whatever is on sale)
● 1/2 cup Whole Wheat or Gluten-Free Panko crumbs
● 1 egg
● 1 Tbsp Mrs Dash Onion & Herb
● 1/2 cup Cheddar, shredded
● 1/2 cup BBQ Sauce (low sugar, low sodium, gluten free)

Directions:
● Spray an 8x8 pan with olive or coconut oil.
● In a bowl, mix all ingredients except the bbq sauce. Press into pan.
● Spread the bbq sauce over the top.

● Bake at 450 for 30 minutes.
● Carefully drain off liquid and return to oven for 10 minutes. Check for doneness.
● If not cooked through, continue cooking in 10-15 minute increments.

Option: Instead of an 8x8, use muffin tins! This makes easily portable leftovers!



Smashed Potatoes
Potatoes are a fabulous source of potassium (mostly in the skin)! Don't be afraid to enjoy "white" potatoes while eating clean. Typically, I don't eat starchy carbs in the evening, unless it's a treat, but the rest of my family does, so this makes a great "comfort" food that's also very healthy.

Ingredients:
● 1 1/2 to 2 Lbs Yukon Gold potatoes (don't peel)
● 1 Tbsp Unsalted Butter (local if possible)
● 1/4 cup Non-Fat Milk
● 1/4 - 1/2 cup shredded Medium Cheddar Cheese
● 1/2 - 1 Tbsp Mrs Dash Garlic & Herb

Directions:
● Chop potatoes into chunks and boil in salted water until tender. Drain.
● Add butter, milk & Mrs Dash and smash with a fork (keeping the skins).
● If you want a more "mashed" texture, use a hand mixer and blend until you reach desired consistency.