Ready to Succeed?
Don't "diet", instead, Transform Your Life! We offer meal plans with recipes that taste GREAT! Enjoy your food, live your life, and reach your goals!

Learn More
Healthy Recipes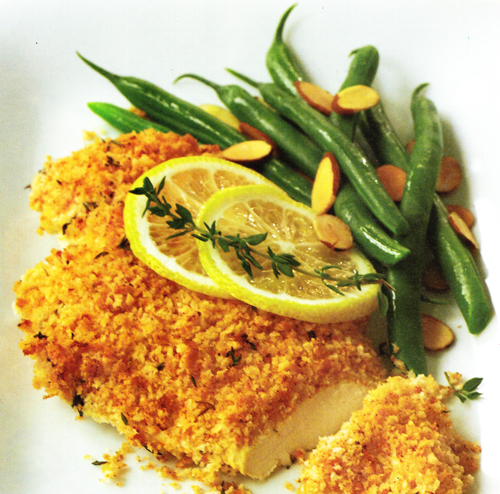 Consumer Reports Food & Fitness, Winter 2011 offered up this yummy recipe. I've been experimenting with Panko, and this is the best recipe I've tried to-date.

Lemon & Dijon

Panko Crusted

Chicken

Makes 6-8 servings

Ingredients:
● 2 tbsp dijon mustard (look for gluten-free brand if needed)
● 1 clove garlic, minced
● 2 tbsp freshly squeezed lemon juice
● 1 tsp salt, divided
● 1/2 tsp freshly ground black pepper
● 2 lbs boneless, skinless chicken breasts
● 1 cup whole-wheat or Gluten-Free panko breadcrumbs
● 1 tbsp fresh thyme leaves
● 1 tsp grated lemon peel
● 1/4 tsp cayenne pepper
● Olive oil spray

Directions:
● Heat oven to 450.
● Whisk mustard, garlic, lemon juice and 1/2 tsp salt and black pepper in a large bowl.
● Add chicken; turn to coat. Set aside.
● Mix breadcrumbs, thyme, lemon peel, remaining salt and cayenne pepper in shallow bowl.
● Place wire rack on rimmed baking sheet.
● Spray with olive oil. Coat Chicken in breadcrumb mixture and place on rack.
● Spritz lightly with olive oil spray.
● Bake chicken 25 minutes, or until cooked through, covering loosely with foil during the last 5 minutes of baking time if chicken is browning too much.