Ready to Succeed?
Don't "diet", instead, Transform Your Life! We offer meal plans with recipes that taste GREAT! Enjoy your food, live your life, and reach your goals!

Learn More
Healthy Recipes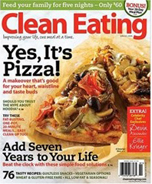 The second issue of Clean Eating Magazine contained a recipe for pizza. I've based my version on that original recipe. The main difference is that I've replaced their homemade pizza crust with a ready-made, and added more protein for a better balance of carbs/protein.
Healthy Pizza

Makes 8 slices

Ingredients:
● 1 Ready-Made Whole Wheat Pizza Crust (see products below)
● 1 Jar low-sodium, low-sugar pizza sauce (or make your own with no-salt added tomato paste, 1 tbsp olive oil, water and Mrs. Dash seasonings)
● 1 link each Applegate Farms Chicken Apple Sausage and Sweet Italian (or any other 2 flavors you prefer), sliced like pepperoni - or use grilled chicken or pork
● 1/4 cup browned Boca crumbles or ground beef/turkey/bison/other lean meat
● Chopped Veggies (I use Zucchini, Baby Portobello mushrooms, onion, red pepper, a bit of Fresno Pepper, Greek Olives, tomatoes)
● Mrs. Dash Garlic and Herb
● 1 to 1 1/2 Cup Shredded Mozzarella Cheese
● 2/3 Tblsp. Feta Cheese or Fresh Parmigiano-Reggiano (if desired)

Directions:
● Spread sauce on crust. Top with 1/4 to 1/2 of the Mozzarella Cheese.
● Add meat toppings, then veggie toppings.
● Sprinkle Mrs. Dash and also remaining cheese's over the top.
● Don't be afraid to load up this pizza! I pile on tons of chopped veggies & meat!

● Bake at 450 degrees on pizza or cookie sheet for 8-12 minutes or until toppings are ● browned and cheese melted.
● Remove from Oven and let sit for about 3 minutes before slicing.
Below are some products I use in this recipe: