Ready to Succeed?
Don't "diet", instead, Transform Your Life! We offer meal plans with recipes that taste GREAT! Enjoy your food, live your life, and reach your goals!

Learn More
Healthy Recipes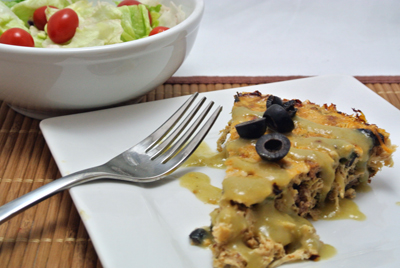 Looking for a fast but flavorful high-protein meal? This is a crustless quiche that is easy to make, filling, and tasty enough to serve guests!
As always, if you need Gluten Free, be sure to check your labels on the products!

Enchi-Quiche

by Chelle Stafford


Makes 8 slices

Ingredients:

½ lb ground lean beef, raw
½ lb slow-cooker shredded chicken (about half a breast), drained of liquid
1 cup liquid egg whites
1 cup green enchilada sauce, divided (gluten free)
¼ cup chopped green onion
4 Tbsp sliced black olives, drained
4 Tbsp diced green chilies
1-2 Tbsp chopped chipotles in adobo sauce (remove seeds)
¼ cup shredded cilantro


Directions:

Prepare a pie dish (deep) with spray oil. Preheat oven to 425 F degrees.
Brown ground beef and season with Mrs Dash Southwest Chipotle.
In large bowl, mix together the browned beef and shredded chicken. Add remaining ingredients, reserving ½ cup of enchilada sauce for serving.
Pour into pie dish and bake about 45 minutes, or until a knife inserted in center comes out clean.
If your edges are cooking too fast, wrap foil just over the edges, leaving the center of the quiche open.
Allow to cool slightly, and then cut into 8 pieces.
Pour remaining enchilada sauce over top and serve, or store in refrigerator, covered.

Tips
If your diet allows, add 1 cup (minus 1/4) shredded cheddar to quiche mix. After baking, top with enchilada sauce and reserved ¼ cup cheese. Bake an additional 5 minutes, or until cheese is melted.
Serve with black beans and/or a salad.

Nutrition
Per slice without cheese: 113 calories, 16 g protein, 3 g carb, 3 g fat.
Per slice with cheese: 167 calories, 19 g protein, 4 g carb, 8 g fat.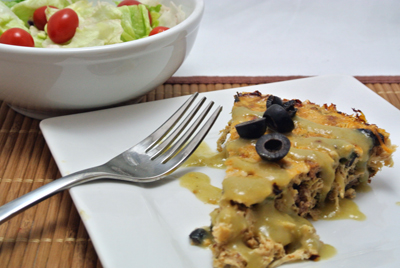 As seen in World Physique Magazine Women, Spring 2012