Ready to Succeed?
Don't "diet", instead, Transform Your Life! We offer meal plans with recipes that taste GREAT! Enjoy your food, live your life, and reach your goals!

Learn More
Healthy Recipes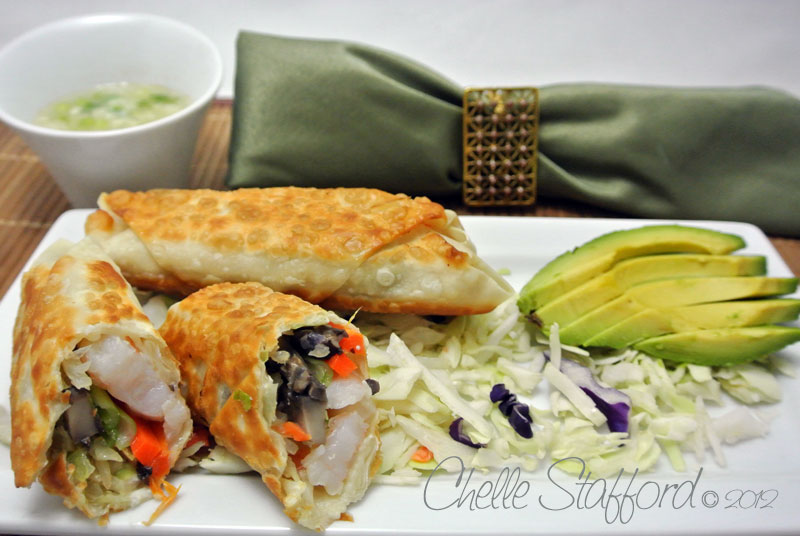 Looking for a fast but flavorful high-protein meal?
This recipe is quick, easy, and low-carb! Worried about frying? Don't! This recipe uses fitness-friendly coconut oil. On competition diet? This recipe is training-approved!
Chelle's Clean Egg Rolls

by Chelle Stafford
Serves 1

Ingredients:

1 egg roll wrapper
1 tsp cream cheese
wasabi powder
2 Tbsp shredded cabbage
1 Crimini (brown) mushroom, chopped
1/4 of a carrot, peeled and sliced into sticks
1 green onion (spring onion), sliced
3 oz shrimp, cooked (tail removed)
Coconut oil for cooking (I made 4 rolls, used 2 Tbsp coconut oil, and had oil leftover! It really doesn't take much!)

Directions:

Chop vegetables.
In a small glass bowl, mix together wasabi powder and a small bit of hot water. Allow to rest for 5 minutes. Add cream cheese and mix well.
In a small skillet, spray a bit of oil in the pan and saute mushroom until almost soft. Add the cabbage and 1 Tbsp water, then place a lid over the skillet to steam (just takes a minute or two). Remove from heat.
Lay wrapper flat and spread cream cheese wasabi. Layer: shredded cabbage/mushroom, carrot, green onion and then shrimp.
Roll up wrap, tucking in the sides, and finish by moistening the end to seal.
In small skillet, heat 1-2 Tbsp coconut oil until hot. Add roll(s) and cook, turning often. Remove to plate.
Serve with dipping sauce (below).

NUTRITION
Per roll (recipe makes 1 roll): 173 calories, 22 g protein, 15 g carb, 2 g fat, 1 g fiber.
Chelle's Egg Roll Dipping Sauce

by Chelle Stafford
Serves 4

Ingredients:
6 Tbsp rice vinegar
3 cloves garlic, finely chopped
1 green onion, sliced/chopped
1 packet Stevia in the raw
2 drops toasted sesame oil

Mix together in a bowl and use for dipping. (fyi - it's garlicky and spicy!)
NUTRITION
Per serving: 8 calories, 1 g carb