Ready to Succeed?
Don't "diet", instead, Transform Your Life! We offer meal plans with recipes that taste GREAT! Enjoy your food, live your life, and reach your goals!

Learn More
Healthy Recipes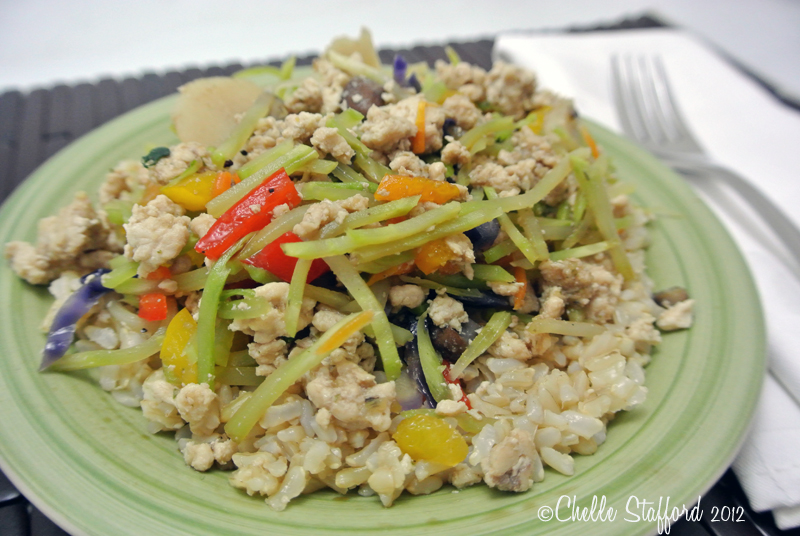 Looking for a fast and flavorful high-protein meal?
When I first began my weight-loss / fitness journey, Tabitha introduced me to this recipe, and because it's so easy, so quick, and so tasty, it has stayed in my regular lineup ever since. The family loves it, I love it, and it's super portable, too! Serve it over a bed of brown rice if you've got room for starchy carbs!

Easy Stir-fry



Makes 6 servings

INGREDIENTS:
● 1.3 lb Extra Lean Ground Chicken(* I've also done this with Buffalo, Turkey, Pork, and Beef - as long as it's EXTRA LEAN it will work!)
● 1 bag Broccoli Slaw (produce section of grocery store - includes: Shredded broccoli stems, carrots and red cabbage) - 12 oz
● 1 cup chopped peppers (use a variety of colors!)
● 1 cup chopped mushrooms
● 1 can (8 oz) sliced water chestnuts, rinsed and drained
● Mrs Dash Garlic & Herb
● *optional - 1/2 tsp fresh minced ginger
● Bragg's Liquid Aminos (I use the spray bottle)

DIRECTIONS:
● Brown the meat, season with Mrs Dash. Drain and set aside.
● Add Broccoli slaw, mushrooms & peppers to pan, lightly season with Mrs Dash. Add 1/2 cup water (or chicken broth). Cover pan and allow to steam for about 5 minutes.
● Add meat back into pan, add water chestnuts and spray liberally with Bragg's Aminos. Mix well and serve.
● Serve over brown rice if desired (adjust nutrition info accordingly).

NUTRITION: per serving - 146 calories, 23 g protein, 7 g carbohydrate, 3 g fat, 2 g fiber.