Ready to Succeed?
Don't "diet", instead, Transform Your Life! We offer meal plans with recipes that taste GREAT! Enjoy your food, live your life, and reach your goals!

Learn More
Healthy Recipes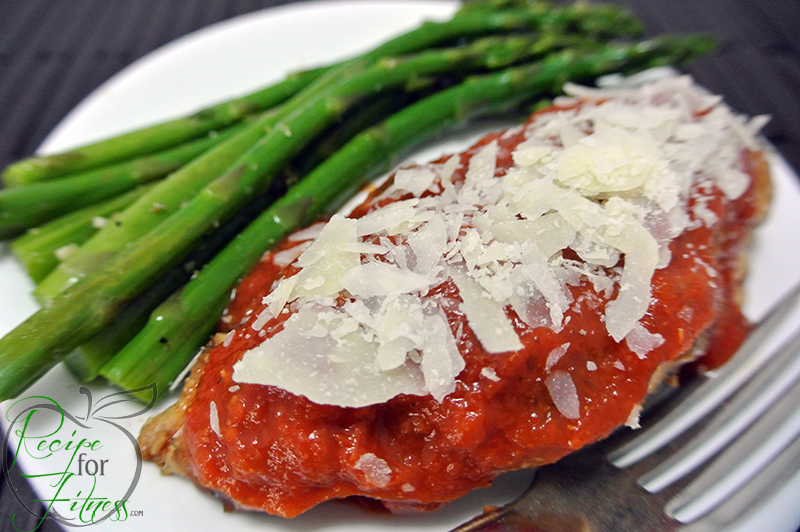 If you're dieting down - for a special event or for a competition - you might be reaching the point of the season where you despise mustard and sriracha sauce on your chicken breast. Let me assure you - there is life outside of the Competitor's Condiments. ;-) Check out the super fast and easy way to switch it up - and clean up an old favorite!


EASY Chicken Parmesan

by Chelle Stafford


Serves 1
Ingredients:
4 oz Chicken Breast
1/2 cup Newman's Own Sockarooni Sauce
(or other clean marinara)
*OPTIONAL 2 tsp shredded or grated parmesan
*OPTIONAL 1/4 tsp Mrs Dash Tomato & Basil

Directions:
Spray a small baking dish with cooking oil.
Pour 2 Tbsp sauce into dish.
Sprinkle both sides of chicken with Mrs Dash, place in pan on top of sauce.
Top with 2 Tbsp sauce.
Bake 10 minutes, add remaining sauce, and continue to bake until cooked through or internal temperature reaches 165 degrees.
Turn off oven, remove chicken and sprinkle on cheese. Return to oven and allow to stand 10 minutes or until cheese has melted.
Serve.

NUTRITION
per serving: 225 calories, 30 grams protein, 12 grams carbs, 6 grams fat, 1 gram fiber.