Ready to Succeed?
Don't "diet", instead, Transform Your Life! We offer meal plans with recipes that taste GREAT! Enjoy your food, live your life, and reach your goals!

Learn More
Healthy Recipes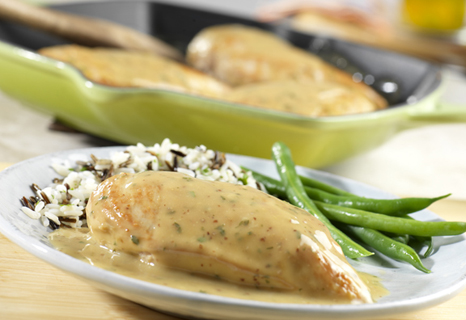 The original recipe can be found in The Arthritis Cure Cookbook (Brenda Adderly, M.H.A., with Lissa De Angelis, M.S., C.C.P, published 1998).
This was a fabulous dish, though I made one tiny mistake: I used stone-ground whole wheat flour. The "gritty" consistency led to a not so great looking sauce, though it didn't effect the flavor or texture. Next time, I'll probably use whole wheat pastry flour or all-purpose whole wheat.

Creamy Tarragon Chicken

Makes 4 servings

Ingredients:
● 2 teaspoons unsalted butter [yes, real butter]
● One 2 1/2 - 3 lb chicken, quartered [I used 4 chicken breasts, which also reduces cooking time]
● 3 cloves garlic, peeled
● 2 sprigs fresh or 1 1/2 tsp dried tarragon
● 1 1/4 cup chicken stock [I used lower-sodium chicken broth]
● 1/2 tsp sea-salt
● 1/4 tsp ground pepper
● 3/4 cup plain yogurt with active cultures [I used greek yogurt]
● 1 1/2 tbsp whole wheat flour [use a fine ground, not stone-ground] OR King Arthur's Gluten Free All Purpose Flour
● 3 sprigs parsley, leaves only, washed and pulse chopped

Directions:
● PREHEAT OVEN TO 375 degrees
● Grease a 9x13 baking pan with 1/2 tsp of the butter.
● Place the chicken in the pan, bone side down (or use boneless breasts).
● Bake until the chicken has browned, about 30 minutes. It will not be thoroughly cooked.

● In a blender or food processor, pulse mince the garlic and tarragon.
● Heat a medium-size skillet on a medium-high flame/heat, with the remaining 1 1/2 tsp butter, and sauté the garlic and tarragon briefly.
● Add the stock (broth), sea-salt, and pepper.
● On high heat, bring liquid to a boil, covered.
● Reduce the heat and simmer 5 minutes.

● Using tongs, remove the chicken from the oven to the skillet.
● Spoon the sauce over the chicken, cover and cook until the juices run clear when inserted with a fork, about 20 minutes.
● Baste occasionally.

● In a small bowl, combine yogurt and flour.
● Remove chicken to a serving platter and cover; or place in the oven to keep warm.

● Add 2 tbsp of the tarragon sauce to yogurt mixture and stir well.
● Add several more tbsp of sauce, stirring again.
● Using a whisk, add the yogurt mixture to skillet, blending well.
● Cook until the sauce bubbles and is hot, whisking constantly, about 1 or 2 more minutes.
● Pour the sauce over the chicken and sprinkle with parsley.
Nutrition Information:
From NutritionData.com is estimated