Ready to Succeed?
Don't "diet", instead, Transform Your Life! We offer meal plans with recipes that taste GREAT! Enjoy your food, live your life, and reach your goals!

Learn More
Healthy Recipes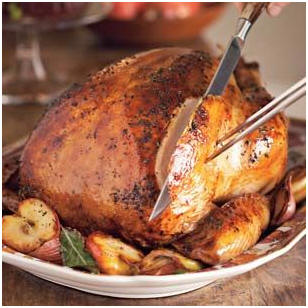 If you've never brined a turkey, you're in for a treat! It's easy, and it makes the most succulent bird you'll have ever tasted. Truly! This is my favorite recipe, and I've been making this for several years. As a special note, the brining process (for reasons unknown to me) creates a LOW SODIUM bird. I know it seems crazy, but truly, the process does NOT increase the sodium content. Buy a low sodium bird (the kind that doesn't have the solution injected - read labels carefully), and then brine away! Also... don't stint on the butter. It's just for basting, and makes your turkey look just like this photo. The original recipe can be found on the Williams-Sonoma website, here.

Cider Brined Turkey

Soaking the turkey in saltwater brine produces tender, juicy meat, but the pan drippings are too salty for making gravy.
Serves 12

Ingredients:
● 1 jar turkey brine—apple and spices, prepared with cider and water according to package instructions [here's the link to order it online]
● 1 fresh turkey, about 16 lb., neck, heart and gizzard removed (reserved, if desired)
● 8 Tbs. (1 stick) unsalted butter, at room temperature
● 4 tsp. chopped mixed fresh herbs, such as rosemary, oregano, parsley and sage
● 1/2 tsp. freshly ground pepper


Directions:
● Prepare the turkey brine and brine the turkey according to the package instructions.

● Remove the turkey from the brine, rinse well under cold water and pat dry with paper towels.
● Trim off and discard the excess fat.
● Let the turkey stand at room temperature for 1 hour.
● Position a rack in the lower third of an oven and preheat to 400ºF.
● In a bowl, using a wooden spoon, beat together the butter, herbs and pepper until well blended.
● Spread the butter mixture evenly on the outside of the turkey.
● Truss the turkey as desired using kitchen twine.

● Place the turkey, breast side up, on a rack in a large roasting pan and roast for 30 minutes.
● Loosely tent the turkey with foil
● Reduce the oven temperature to 325ºF and continue roasting, basting every 30 minutes with the pan juices.
● After about 2 1/2 hours of total roasting time, begin testing for doneness by inserting an instant-read thermometer into the thickest part of the breast and thigh, away from the bone.
NOTE: The breast should register 165°F and the thigh, 175°F. Total roasting time should be 3 to 3 3/4 hours.

● Transfer the turkey to a carving board, cover loosely with aluminum foil and let rest for 20 to 30 minutes before carving.

**NOTES: I brine my bird 24-48 hrs.
● I make the brine on Tuesday night, drop in the turkey, cover & place in fridge.
● Wednesday evening I flip the bird over and re-cover.
● Thursday morning it goes in the oven.
● I also use a larger bird... usually around 21-22 lbs.