Healthy Recipes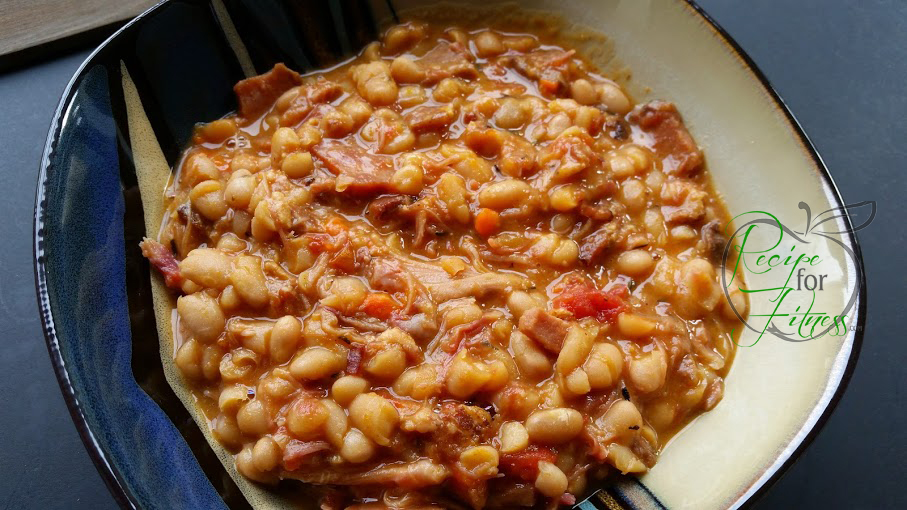 Ever get a craving a childhood favorite? Then this recipe is for you! It's super easy and amazingly flavorful! After a challenge from my hubby to recreate this tasty dish, and clean it up without losing any flavor, I got to work. This took several rounds to get it just right, but finally it's ready! And let me tell you, it's incredible! The house smelled like glory all day while it cooked, and the taste did not disappoint!

The Campbell's Bean and Bacon soup that we grew up with has per 1 cup: 320 calories, 16g protein, 50g carbs, 6g fat, 16g fiber, 8g sugar, and 1720 mg sodium. It also has a scary ingredient list with a ton of nasty additives, including MSG!

My recipe has per 1 cup: 201 calories, 16g protein, 28g carbs, 3g fat, 10g fiber, 4g sugar, and 664 mg sodium. The ingredient list is clean and wholesome.

Yep, nailed it! ;-)

And so, I give you.... The best Bean and Bacon Soup you'll ever have. You're welcome. ;-) It's clean and healthy (though it tastes so good, you'll think it's a cheat meal!)!
Slow Cooker Bean and Bacon Soup
Perfect for chilly days, this soup is comforting, filling, flavorful, and HEALTHY!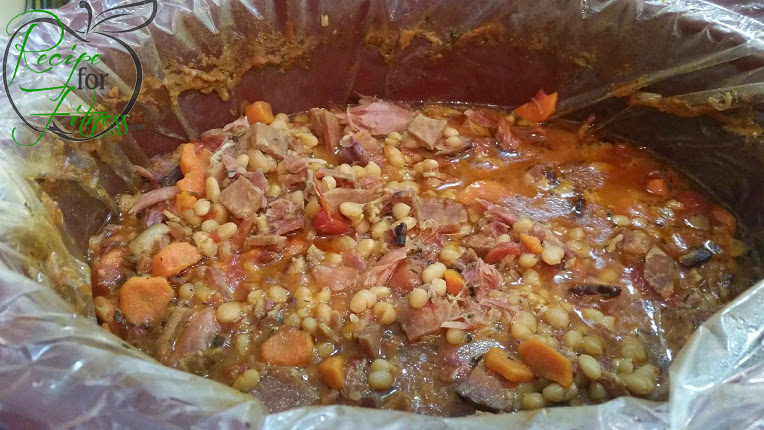 Preparation Time: 30 minutes Total time: 10 hours
By Chelle Stafford, December 3, 2014
Serves 12

Ingredients:
1 lb dry navy beans,
5 cups Low Sodium Chicken Broth (I like Imagine brand),
1 15-oz can Fire Roasted Diced or Crushed tomatoes,
1/2 large white onion ,
2 medium carrots, peeled and diced,
2 cloves garlic, minced,
1/2 tsp dried thyme,
1/2 tsp black pepper,
1 package uncured thick cut bacon (I like Applegate Farms),
8 oz ham, diced,
2 ham hocks (ask your butcher if you don't see them in the meat case),

Instructions:
Soak beans in water overnight (place beans in large pot, add water until beans are covered by about 4 inches, cover and let sit - I let mine sit on cool stovetop).
In the morning, drain water, removing any funky beans.
Cook bacon, then chop it into small pieces (use a papertowel to absorb any excess fat)
Place beans in slowcooker, add 5 cups broth, diced ham, halved onion*, diced tomatoes (including juice), diced carrots, thyme, pepper, and cooked & chopped bacon. Stir.
Add 2 ham hocks.
Cover and cook on low 8-10 hours.
Remove onion* and discard.
Remove ham hocks and shred the meat off. Add meat back to slowcooker. Stir.
Serve.

*Notes
1: When reheating - soup will be thick. There is NO NEED to add liquid to thin it back out. As it heats up, it will thin out on its own.
2: My husband hates the texture of onion, so I leave the onion as a whole half (wow, that sounds weird, lol), and discard it after cooking - we get the great onion flavor, but he doesn't have to deal with the texture. If you enjoy onions, then go ahead and dice it up and just leave it in.
Nutrition facts per serving:
201 calories
|
16 grams protein
|
28 grams carbs (net 12g carbs)
|
3 grams fat
|
10 grams fiber
|
664mg
.
You can reduce the sodium further by eliminating the 8 oz of diced ham, but you'll also reduce the protein - just fyi.
You might also be interested in our other Main Dish recipes.