Ready to Succeed?
Don't "diet", instead, Transform Your Life! We offer meal plans with recipes that taste GREAT! Enjoy your food, live your life, and reach your goals!

Learn More
Healthy Recipes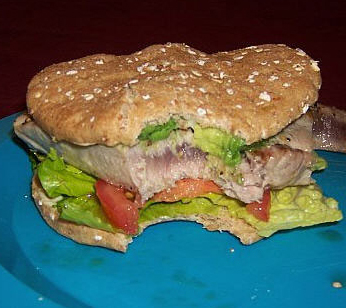 This is a fabulous treat from Devin Alexander's, I Can't Believe It's Not Fattening, but cleaned up a bit :-) My photo isn't the best, but trust me... it's YUMMY!

Ahi Steak Sandwich

Makes 1 serving

Ingredients:
● 2 4-ounce Sushi or Sashimi Grade Ahi Tuna steak (should be beautifully pink and not smell fishy)
● 1/4 tsp prepared Wasabi
● 2 Tbsp clean mayonnaise (watch the labels for zero preservatives)
● 1 Tbsp olive oil
● Fresh pepper & sea-salt to taste
● 2 Sandwich thins or other clean "bun"
● Green leaf lettuce
● 1/2 avocado sliced (optional)
● 4 slices tomato

Directions:
● Have all ingredients ready, because the tuna cooks fast and you don't want it sitting around while you're putting your sandwich together :-)

● Prepare the wasabi, (mine is a powder you mix with hot water and requires a 5 min. rest, so check the directions on yours).
● Combine with the mayo and set aside.
● Slice tomato, and avocado (if using).
● Prep the lettuce leaves.

● Heat a small non-stick skillet on high heat until hot, but not smoking.
● Oil the tuna on both sides and sprinkle with fresh pepper & sea salt.
● Add tuna steak to the pan and sear - about 30 seconds to a minute on each side. Ahi should be RARE in the middle... if look at my photo, you'll see that I actually overcooked mine (still tasty, though).

● Spread 1/2 the wasabi-mayo on each bun top.
● Place lettuce and tomato on bottom bun.
● Top with Ahi, then avocado (if using), and top bun.
● Serve immediately.

Nutrition Information:
Each sandwich (without avocado) has:
about 298 calories
32 g protein
27 g carbs
7 g fat
0 mg cholesterol
4 g fiber
395 mg sodium
These numbers will change depending on the bun you use, your choice of mayonnaise, and whether or not you add the avocado.