Ready to Succeed?
Don't "diet", instead, Transform Your Life! We offer meal plans with recipes that taste GREAT! Enjoy your food, live your life, and reach your goals!

Learn More
Healthy Recipes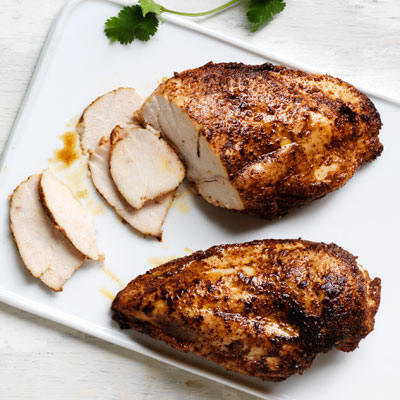 Whether you're looking for a fresh new recipe for your family, or one to spice up your diet as you eat for fuel and performance, this easy Blackened Chicken will meet your needs. It's excellent in a wrap, a sandwich, a salad, or served as-is.

Traditional blackened chicken recipes can include a frightening amount of butter - while real (grass fed, no hormones, no additives, etc) butter is a healthy fat in moderation, utilizing upwards of a cup of butter is simply not necessary. Eliminating the butter and utilizing buttermilk is the trick to this simple dish. The buttermilk enzymes tenderize the chicken meat, without adding fat, and ensures a tender and juicy cooked meat with maximum flavor (and zero boredom!). Grill up a bunch and enjoy this tasty protein all week!
Tender Blackened Chicken
makes 4 4-oz servings. Increase recipe and portion size as needed.

INGREDIENTS
1 lb chicken breast
2 Tbsp Mrs. Dash Chicken Salt Free Seasoning Blend

1 Tbsp fresh cracked pepper
1 cup Buttermilk

DIRECTIONS
● Place chicken and buttermilk in a large ziploc bag. Massage bag until chicken is fully coated then allow to rest in refrigerator 2-24 hours. The longer it marinates, the more tender the meat will be. *Like heat? Add some hot pepper sauce to the marinade!
● Preheat grill.
Option1: Remove chicken from bag and rinse under cold running water. Pat dry with paper towel.
Option2: Remove chicken from bag and gently wipe off the majority of the buttermilk. Continue to next step.
● Mix Mrs Dash and freshly cracked pepper in a bowl.
● Rub mixture over chicken breasts.
● Grill until internal temperature reaches 165 degrees (chicken will not be pink inside).
● Allow to rest on cutting board for 10 minutes.
● Slice or dice or serve whole.


NUTRITION
per 4 oz serving: 126 calories, 26 grams protein, 1 gram carb, 1 gram fat, 75 mg sodium

NOTE: If your diet allows... might I suggest an ice cold beer with this dish? ;-)


Special Note... CERTAIN PRODUCT LINKS THAT APPEAR ON THIS PAGE COME FROM AMAZON SERVICES LLC. THIS CONTENT IS PROVIDED 'AS IS' AND IS SUBJECT TO CHANGE OR REMOVAL AT ANY TIME. "Recipe for Fitness is a participant in the Amazon Services LLC Associates Program, an affiliate advertising program designed to provide a means for sites to earn advertising fees by advertising and linking to Amazon.com."

*Photo credit Jonny Valiant. I forgot to take a pic (oops!), but this is what my blackened chicken looks like when it's done. YUM!