Ready to Succeed?
Don't "diet", instead, Transform Your Life! We offer meal plans with recipes that taste GREAT! Enjoy your food, live your life, and reach your goals!

Learn More
Healthy Recipes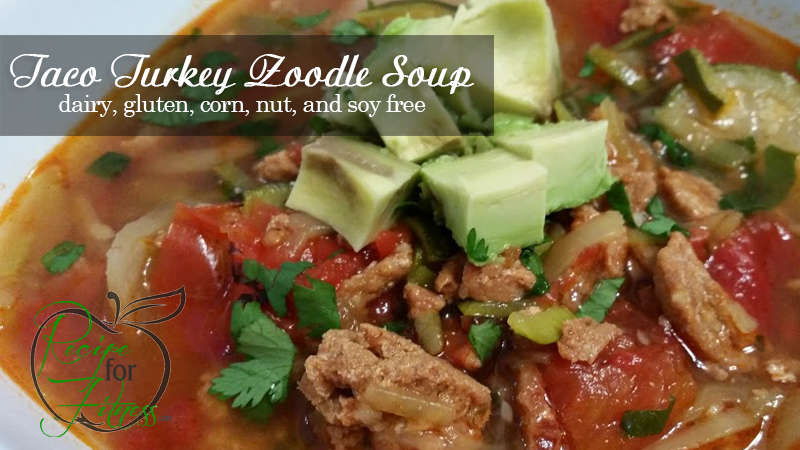 I've been in the mood for soup. After hours perusing Pinterest, I found a few that looked particularly promising... so I played, and tweaked, and created, and eventually ended up with the tastiest, most filling & satisfying, competition-friendly Taco Turkey Zoodle Soup. Yep, Zoodle. I love my little Spiral Vegetable Slicer
and use it whenever I can. It's an inexpensive gadget that you'll have tons of fun with! Back to the recipe... I whipped up all the stuff, then tossed it in my crockpot and 4 hours later the house smelled like taco heaven and my mouth was slurping up noodles. Good times!
Click on the long photo to view larger.

Taco Turkey Zoodle Soup
By Chelle Stafford
"Taco Turkey Zoodle Soup comes together quickly, finishes in the crockpot, and tastes spectacular!"

Ingredients
2.5 lb Ground Ultra Lean Turkey Breast
1 Tbsp Extra Virgin Olive Oil
1 tsp Mrs Dash Extra Spicy*
1 Tbsp Mrs Dash Southwest Chipotle*
1 Medium Yellow Onion
6 cloves Garlic
2 Jalapeno Peppers
1 Poblano Chili Pepper
2 Qt Low Sodium Chicken Broth (I like Imagine Chicken Broth, Low Sodium)
28 oz Fire Roasted Tomatoes, Diced
2 Medium Zucchini
1 Avocado
2 Limes
1 Bunch Cilantro
Directions
Brown ground turkey with seasonings (adjust to taste, or use a packet of clean Fajita seasoning - no MSG).
Dice jalapeno, poblano and onion. (My husband hates onion, so I simply quarter it so it's easy to pull onions out of his bowl).
Mince garlic.
Spiralize zucchini and set aside.
Heat a skillet over medium high heat. Add oil and onions and cook just until translucent - about 4 minutes.
Add garlic and peppers and sauté 1-2 minutes. Remove from heat.
In slow cooker (I use crockpot liners for easy cleanup), mix together the cooked turkey, pepper, onion and garlic mixture, zucchini noodles*, can of tomatoes (with juice), and broth. Mix well.
Cover and cook on low 4-6 hours.
When ready to serve, chop cilantro and add to crockpot, reserving 1/4 cup for garnish.
Add juice of 2 limes. Stir well.
Dice avocado.
Top each serving with a sprinkle of cilantro and diced avocado.
NOTE
:
*I like my zucchini noodles really well cooked in this soup, but if you prefer a firmer noodle, simply add noodles later in the cooking time, like 1-2 hours before serving, or just before serving. It's all about your personal preference.
TIPS
:
There's lots of room to personalize this recipe... use shredded chicken, turkey, or beef in place of the ground turkey breast. Use different veggies, or more veggies. Add a sprinkle of cheddar cheese or Daiya cheddar style shreds. Add a scoop of plain greek yogurt (or sour cream). Sprinkle on chopped green onions... Play with your food!
Nutritional Information
Amount Per Serving Calories: 260 | Total Protein: 37g | Total Carbohydrate: 12g | Total Fat: 6g | Total Fiber: 3 | Sodium: 370mg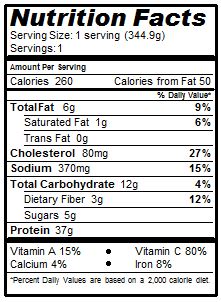 **inspired by the recipe found here: http://pcosboss.wordpress.com/2013/09/18/new-favorite-recipe-paleo-chicken-tortilla-less-soup/
Special Note... CERTAIN PRODUCT LINKS THAT APPEAR ON THIS PAGE COME FROM AMAZON SERVICES LLC. THIS CONTENT IS PROVIDED 'AS IS' AND IS SUBJECT TO CHANGE OR REMOVAL AT ANY TIME. "Recipe for Fitness is a participant in the Amazon Services LLC Associates Program, an affiliate advertising program designed to provide a means for sites to earn advertising fees by advertising and linking to Amazon.com."