Ready to Succeed?
Don't "diet", instead, Transform Your Life! We offer meal plans with recipes that taste GREAT! Enjoy your food, live your life, and reach your goals!

Learn More
Healthy Recipes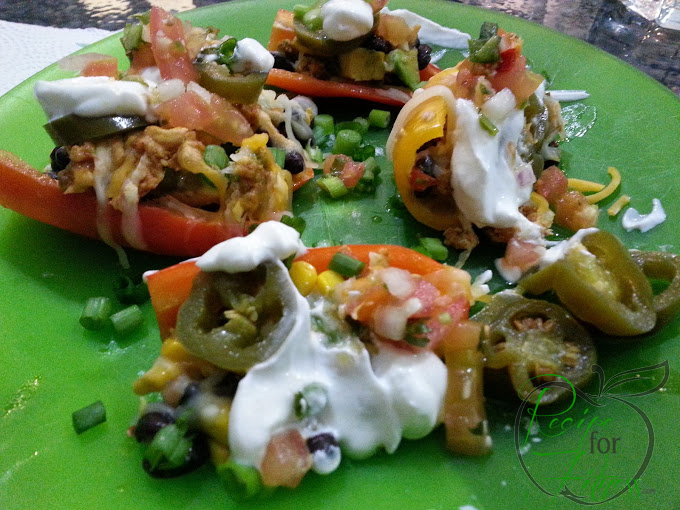 You're working hard. You're eating clean. And you're craving nachos. Here you go... and you're welcome! ;-) I found the original recipe on pinterest and adjusted it to fit my own macros (need protein!). This is a seriously tasty dinner for the whole family - or make it as an appetizer at your next party! The crunch of the peppers is the perfect replacement for tortilla chips, and the filling will bring oooh's and ahhh's galore! Dig in!
Mini Pepper Chorizo Nachos
makes 4 servings. Increase recipe and portion size as needed.

INGREDIENTS
1 lb mini peppers, halved, stems and seeds removed
1 lb chicken chorizo (find recipe here)
1 can black beans, lower sodium, rinsed and drained
1 can corn, no salt added, drained
1 medium avocado, diced
1/2 cup shredded cheddar
3 green onions, chopped
salsa or hot sauce
plain greek yogurt
jalepenos
DIRECTIONS
Preheat oven to Broil.
Cook chorizo. Add beans, corn and avocado. Mix well.
Line cookie sheet with foil.
Lay pepper halves on cookie sheet and fill with meat mixture.
Sprinkle with cheese.
Broil about 2 minutes - until cheese is melted and beginning to bubble.
Top with green onion, salsa, greek yogurt and jalepenos.
Dig in!
NUTRITION
per serving: 347 calories, 33 grams protein, 28 grams carbs, 13 grams fat, 10 grams fiber. Net 18 grams carbs.