Ready to Succeed?
Don't "diet", instead, Transform Your Life! We offer meal plans with recipes that taste GREAT! Enjoy your food, live your life, and reach your goals!

Learn More
Healthy Recipes
With food sensitivity limitations, I've been eating a lot of turkey. Recently, my family enjoyed a lovely lasagna for dinner, while I suffered, drawing in the glorious scents of it... I thought, huh... wonder if... and voila! Yummy "Not" Lasagna ready in a jiff! Packed full of amazing, creamy and cheesy texture, spicy tomato sauce, downright "comfort" style, this recipe is a new favorite (and figure competition prep friendly!).
Here you go... this recipe is fabulous! Lots of flavor, decadent textures, and Clean Eating to boot! No one will ever know! It's as lovely on the plate as it is on the palate! Plus, it whips up FAST!!
Enjoy!
"NOT" Lasagna
Gluten & Dairy Free Comfort Food! Lasagna style casserole that'll satisfy, and help you reach your goals! Ready in 15 minutes!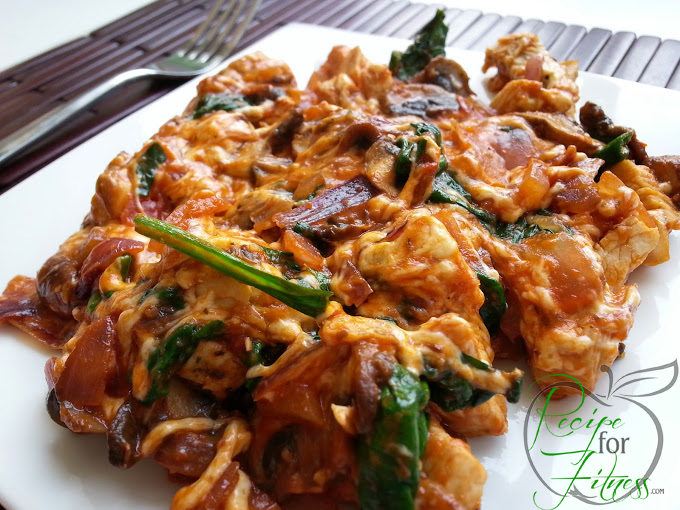 Preparation Time: 5 minutes Total time: 15 minutes

By Chelle Stafford, June 3, 2014
Serves 1
Ingredients:
6 oz cooked Turkey Breast, diced into cubes (I roast a couple turkey breasts in my one-day food prep to have on hand throughout the week. You can use rotisserie chicken breast, too.)
5 sliced brown mushrooms
1 cup baby spinach
1/4 cup diced onion (I like red)
1/4 tsp Mrs Dash Garlic and Herb or Italian Blend
Olive Oil cooking spray
1/4 cup Marinara sauce (I used Newman's Own)
1/4 cup Daiya Mozzarella shreds

Instructions: (see step by step photos below)
Wash and chop mushrooms and onion.
Heat non-stick skillet over medium-high heat. Spray with olive oil cooking spray.
Add mushrooms, onions and Mrs Dash. Cook until softened.
Add spinach and cooked turkey breast, spray with oil again if needed.
Stir, cooking until spinach is wilted and turkey is warmed.
Remove from heat.
Immediately add marinara and "cheese", stirring to combine.
Allow to rest 1 minute for "cheese" to melt.
Serve.

Tips:
This recipe is gluten free, dairy free, corn free, and chicken free. You may replace the turkey with chicken breast, if you prefer.
If you can tolerate dairy, replace the Daiya cheese with mozzarella, but be aware that the nutritional information will change.
I encourage you tot try this recipe as it is written. It's super creamy, melty-cheesy, and full of "lasagna" flavor! My family had no idea there was no "real" cheese in it, and they LOVED it!!
Daiya products are gluten free, dairy free, and soy free. You can learn more about them here: http://us.daiyafoods.com/

Nutrition facts per serving: 355 calories | 45 grams protein | 22 grams carbs (net 19g carbs) | 9 grams fat | 3 grams fiber
You might also be interested in our other Main Dish recipes.