Ready to Succeed?
Don't "diet", instead, Transform Your Life! We offer meal plans with recipes that taste GREAT! Enjoy your food, live your life, and reach your goals!

Learn More
Healthy Recipes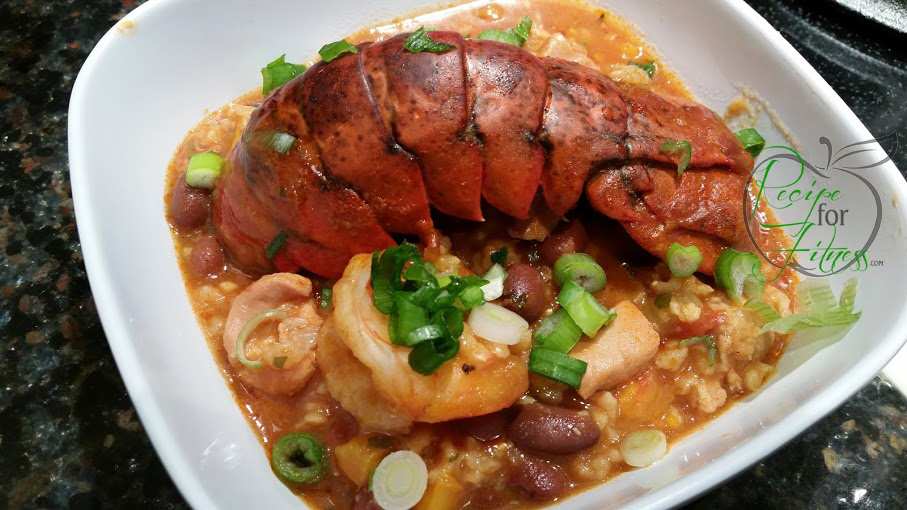 Time for some comfort food!! This recipe is so easy, and it's a simple matter to prep the ingredients during your One-Day Food Prep - just dice the chicken & bag it, gather and bag your seasonings (all in one baggie), chop your veggies & bag (seeing a theme here?)... Seriously easy! Once your ready to cook this up, gather your ingredients toss 'em in, and you're good to go! And as a bonus... the capsaicin (what makes cayenne pepper hot) is a fabulous fat burner!!
Jambalaya
By Chelle Stafford
"Craving comfort food, but don't want to sabotage your goals? This amazing jambalaya will satisfy your tastebuds, fill your belly, and help you burn more fat!"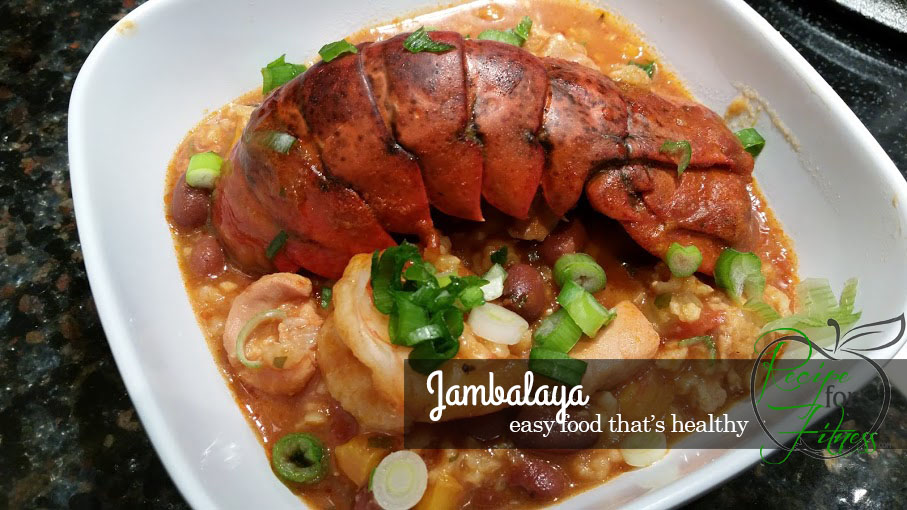 Serves 8
Ingredients
3 chicken thighs, diced
3 sausage links, sliced (I used Aidell's Andouille sausage)
1/2 lb shrimp, raw, peeled and deveined (you can remove the tails if you want)
2 lobster tails, or 1/4 to 1/2 lb raw crawfish
1 (14oz) can crushed tomatoes, including juice
1 (14oz) can red beans, drained and rinsed
1 (8oz) can tomato sauce
3 cups chicken bone broth*
1 cup long grain brown rice (uncooked)
3 bell peppers, any color (I used 1 each red, yellow and orange)
2 stalks celery, diced
6 cloves garlic, minced
3 Tbsp dried minced onion**
1 Tbsp fresh parsley, finely chopped
1/2 tsp dried thyme
1/2 tsp garlic powder
1/2 tsp smoked paprika
1/2 tsp cumen
1/2 tsp black pepper, ground
1/4 tsp cayenne pepper
1/4 tsp sea salt
1 bay leaf
Directions
In dutch oven over medium high heat, add 1 Tbsp olive oil. When sizzling, add garlic and peppers, stirring often until just beginning to soften (about 5 minutes).
Add chopped/diced chicken and sliced sausage and cook until chicken is mostly not pink.
Add crushed tomatoes, tomato sauce, seasonings, broth and rice, stirring well.
Reduce heat to lowest simmer and cover, leaving a small gap in the lid for steam to escape.
Cook, stirring periodically, about 60 minutes. You can cook longer - the longer it cooks, the more flavor there is, just keep that heat low, and stir occasionally.
Add red beans and stir, then lay shrimp and lobster (or crawfish)on top, recover and increase heat to medium. Cook until seafood is cooked through (about 15 minutes).
Discard bay leaf.
Serve, topping with chopped green onion.
Nutritional Information
Amount Per Serving Calories: 347 | Total Protein: 32 g | Total Carbohydrate: 38 g | Total Fat: 6 g | Total Fiber: 6 g | Total Sodium: 900 mg

NOTES:
*You can substitute low-sodium chicken broth for bone broth if you can't find it. I recommend Pacific Foods or Imagine brands.
** You can substitute a raw onion, diced, for the dried onion. My husband doesn't like the texture of the fresh, but can handle the dehydrated.
***CROCKPOT: You can make this in the crockpot! Add everything to the pot (except red beans, shrimp and lobster), and cook on low 4-6 hours. About 20 minutes before serving, add remaining ingredients, cover and continue cooking until shrimp is no longer translucent.