Ready to Succeed?
Don't "diet", instead, Transform Your Life! We offer meal plans with recipes that taste GREAT! Enjoy your food, live your life, and reach your goals!

Learn More
Healthy Recipes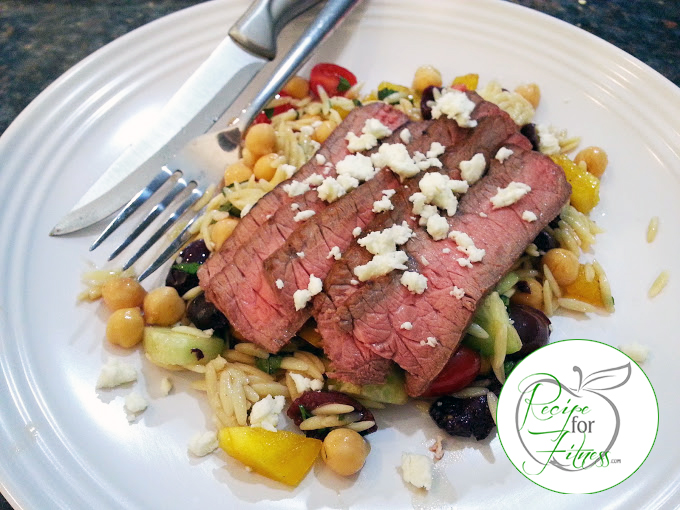 This is a great salad you can serve up for a crowd or downsize it and keep it to yourself. Packed full of bright summer flavors, it's sure to be a new favorite!
And... you can make this gluten free! Simply watch the labels on your balsamic vinegar, then swap out the whole grain Orzo for GF Orzo and you're set! Our family prefers the Delallo brand GF Orzo.
Greek Steak and Orzo Salad
makes 8 servings. Increase or reduce recipe and portion size as needed.

INGREDIENTS
1.5 lb steak (I prefer london broil)
3 Tbsp Balsamic vinegar
1 Tbsp fresh lemon juice
1/8 tsp coarse or flaked sea salt
1/8 tsp fresh ground pepper
1/4 cup extra virgin olive oil
1 can chickpeas (garbanzo beans), rinsed and drained
1/2 cup sliced kalamata olives
1 large yellow bell pepper, chopped
1 cucumber, chopped (I like the Armenian or English variety for this)
2 large tomatoes, chopped
2 Tbsp chopped fresh parsley
2 Tbsp chopped fresh oregano
1 lb Orzo (Gluten Free)
1 container (4 cups) low sodium beef broth
water
DIRECTIONS
Season meat with olive oil and Mrs Dash Garlic and Herb (or any other variety). Allow to reach room temperature. Meanwhile, preheat grill (I use a Foreman).

Grill meat until desired doneness (we like medium-rare). Remove to plate and allow to rest 10 minutes before slicing into thin strips.

While meat is grilling, cook orzo in low-sodium beef broth (I like Pacific Foods or Imagine brands) and water. After cooking rinse in cold water and set aside.

To make dressing, combine vinegar, lemon juice, sea salt and pepper in a mixing bowl. Whisk well. Drizzle in the oil while whisking. Set aside.

In a large bowl, combine chickpeas, olives, pepper, tomatoes, cucumbers, and fresh herbs. Toss with the cooled orzo. Add dressing and mix well to coat.

To serve, divide salad among plates, top with equal amounts of sliced beef.
Top with crumbled Feta if desired.

*original recipe from Delallo.com.
**Make this gluten free with GF vinegar and GF Orzo (I recommend Delallo brand)


NUTRITION
per serving: 484 calories, 29 grams protein, 55 carbs, 17 grams fat, 5 grams fiber, 345 mg sodium.