Ready to Succeed?
Don't "diet", instead, Transform Your Life! We offer meal plans with recipes that taste GREAT! Enjoy your food, live your life, and reach your goals!

Learn More
Healthy Recipes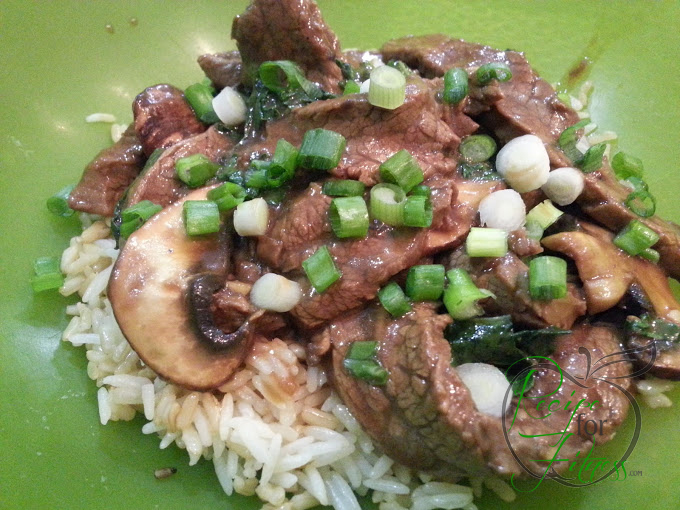 Want to trick someone into enjoying Kale? Just don't tell them it's in here!
This great stirfry will satisfy even your pickiest eaters, as well as fit your own nutritional needs and goals! Full of flavor, and quick from stove to plate!
Ginger, Mushroom, Beef and Kale Stir-fry
makes 4 servings.

INGREDIENTS
1 lb flank steak, thinly sliced, cut diagonally across the grain (or top sirloin steak - I like London Broil cuts)
8 oz sliced brown mushrooms
3 green onions, sliced
3 cups chopped kale
2 garlic cloves, minced
1 Tbsp extra virgin olive oil
Marinade
1/3 cup Bragg's Liquid Aminos
1/2 cup beef vegetable broth, lower sodium
3 Tbsp rice vinegar
2 Tbsp arrowroot powder
1 Tbsp fresh grated ginger (peeled then grated)
1/4 tsp fresh ground black pepper
DIRECTIONS
To make the marinade, in a large ziploc bag, combine aminos, broth, pepper, and arrowroot powder. Seal and shake until combined.
Open bag and add sliced meat. Reseal, massaging until all meat is soaked in marinade. Let sit at room temperature for 15 minutes.
To cook...
Heat 1 Tbsp oil in large skillet over medium-high hat. Remove steak from marinade, reserving marinade, and add meat to pan with garlic.
Sauté for about 2-e minutes until browned, stirring occasionally. Remove to a plate and set aside.
Add mushrooms, kale and reserved marinade to saugte pan, stir to combine.
Cook for 3-4 minutes, until kale is wilted, the sauce has thickened, and the mushrooms have softened, stirring regularly so the sauce doesn't burn.
Add cooked steak and toss to combine.
Top with green onion and serve!

TIP: serve over steamed jasmine or brown rice.

NUTRITION
per serving: 259 calories, 30 grams protein, 11 grams carbs, 12 grams fat, 1 gram fiber.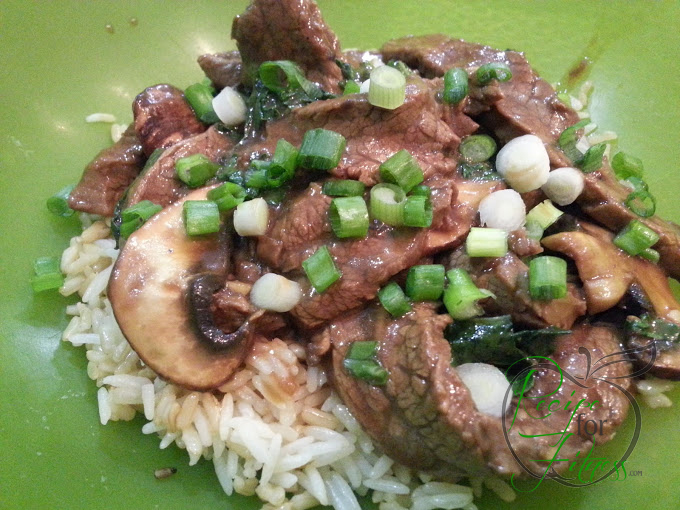 original recipe source: http://www.gimmesomeoven.com/ginger-beef-mushroom-kale-stir-fry-recipe/#_a5y_p=1556868