Ready to Succeed?
Don't "diet", instead, Transform Your Life! We offer meal plans with recipes that taste GREAT! Enjoy your food, live your life, and reach your goals!

Learn More
Healthy Recipes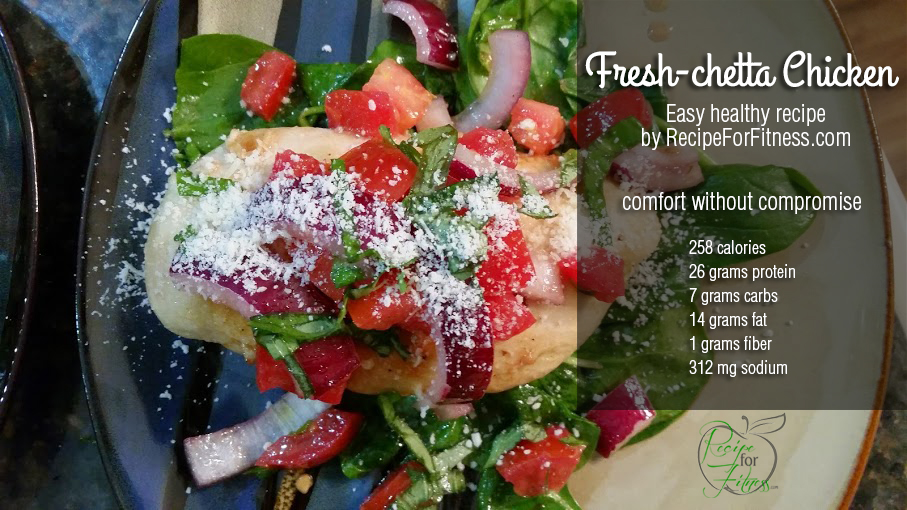 Time for some freshness!! This recipe is so easy! Fresh and light, with flavors that will make your tastebuds cry for joy! Make your bruschetta and marinade in the morning, and when you're ready to make dinner, it'll be ready in about 20 minutes! Can't beat that!
Chicken Freschetta
By Chelle Stafford
"Craving something light and fresh? With just a few simple ingredients, you can be sitting down to a satisfying meal in just about 20 minutes!!"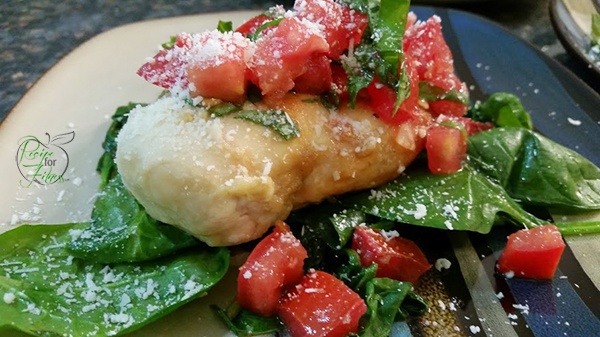 Serves 4
Ingredients
1 lb chicken breasts, pounded to even thickness
3 Tbsp olive oil
1/4 cup white balsamic vinegar
2 cloves garlic, minced
3 roma tomatoes, chopped
1/4 red onion, chopped
handful of fresh basil, chopped
1/2 lemon
sea-salt, to taste
pepper, to taste
2 tsp fresh grated parmesan
Directions
In a large ziploc or sealable glass bowl, combine olive oil, vinegar and garlic. Add chicken breasts, turning to coat. Marinate in refrigerator several hours or overnight.
In a small bowl, combine tomatoes, onions, and basil. Add a squirt of fresh lemon juice (set the lemon aside for later), 1 Tbsp olive oil, and salt & pepper to taste. Cover and refrigerate until ready to serve.
Heat a large skillet over medium high heat.
Add all the marinade and the chicken to skillet. Cook 5 minutes, then flip the chicken. Cook another 5 minutes or until chicken is no longer pink inside. Remove from skillet.
Add spinach to skillet, squeezing the remaining lemon juice over leaves. Stir often until soft and wilted (about 2-3 minutes).
Divide spinach between plates. Place chicken breast over spinach. Top with Bruschetta mixture. Sprinkle with fresh grated parmesan.
Serve.
Nutritional Information
Amount Per Serving Calories: 258 | Total Protein: 26 g | Total Carbohydrate: 7 g | Total Fat: 14 g | Total Fiber: 1 g | Total Sodium: 312 mg

Special Note... CERTAIN PRODUCT LINKS THAT APPEAR ON THIS PAGE COME FROM AMAZON SERVICES LLC. THIS CONTENT IS PROVIDED 'AS IS' AND IS SUBJECT TO CHANGE OR REMOVAL AT ANY TIME. "Recipe for Fitness is a participant in the Amazon Services LLC Associates Program, an affiliate advertising program designed to provide a means for sites to earn advertising fees by advertising and linking to Amazon.com."