Healthy Recipes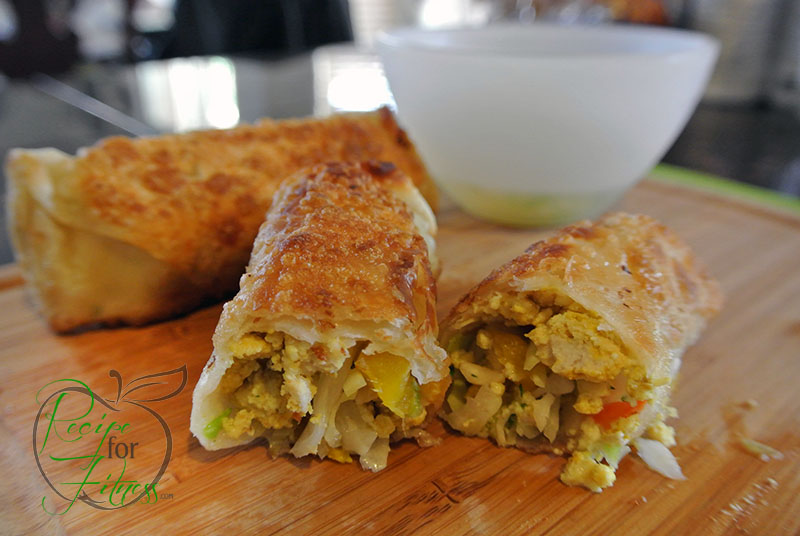 YES! You can enjoy crispy egg rolls and still eat clean! These egg rolls are packed with great flavor (and anti-inflammatory Turmeric!) and can easily fit into your clean eating lifestyle. They're easy to make, store well, and taste fantastic hot or cold. Additionally, you can tweak this recipe to make it Vegetarian and/or Gluten Free! I have several tips below the recipe to help you accomplish this.
Clean Eating Egg Rolls

(see tips below recipe for Vegetarian and/or Gluten Free)
makes 10 egg rolls
INGREDIENTS
1/2 lb ground chicken breast
1/2 cup liquid egg whites
1/4 cup chopped peppers (any color or variety of colors)
1/4 cup chopped snow peas
1 spring onion (aka green onion.), chopped
1/4 cup sliced or chopped brown mushrooms
1 cup shredded cabbage (I use the bags of tri-color cabbage mix)
1 tsp Mrs Dash Garlic and Herb
1/2 tsp Turmeric
10 egg roll wrappers (see note below)
Coconut Oil

DIRECTIONS
Brown ground chicken. When nearly cooked, add veggies and Mrs Dash & Turmeric.
Add egg whites, stirring often.
Cook until veggies reach desired softness/crispness and chicken & egg whites are cooked through.
In a bowl, mix together chicken/veggies and cabbage.
Place about 2 Tbsp of mixture in the center of an egg roll wrapper.
Fold in sides, then the bottom over the stuffing.
Wet remaining top of wrapper with a bit of water and roll it up. Continue until all 10 are rolled.
Heat a skillet over medium high heat. Add 1 Tbsp coconut oil.
Cook egg rolls, two at a time, rolling often to completely brown. Add 1 Tbsp of oil as needed.
Remove cooked rolls to a plate with paper towels to absorb excess oil.
Serve with dipping sauce. (leftovers can be stored in refrigerator and reheated on hot skillet without oil to retain crispness, or microwaved).
Sauce
1/4 cup rice vinegar
1 spring onion, chopped
4 cloves garlic, minced
4 drops hot chili sauce (ie sriracha)
In a small bowl, combine ingredients.
Alternatively, you can eliminate the dipping sauce and use Bragg's Liquid Aminos.
NOTE: Egg Roll Wrappers - Readily available wrappers are typically made with enriched wheat flour. HERE is a recipe I love that allows you to make your own clean wrappers - substitute Un-enriched whole wheat white all purpose flour (like King Arthur) and sea-salt, then follow the rest of her recipe and directions.
NOTE 2: Vegetarian Options - For my vegetarian friends, simply eliminate the ground chicken breast. You can substitute your "meat" of choice, but I recommend Tempeh or Seitan. Lentils or black beans also make a great protein in this recipe.

NOTE 2: GF Options - For my Gluten Free friends, you have a few options. Regular GF wrappers tend to not brown & crisp like the ones containing wheat. You can use Rudi's Plain GF Tortillas or Rice Paper (which is totally clean, but a little more fragile - however, they do brown & crisp). Additionally, you can make your own if you are so inclined.

NUTRITION
Per Roll 119 calories, 9 grams protein, 13 grams carbs, 4 grams fat, 1 grams fiber, 185 mg sodium.