Ready to Succeed?
Don't "diet", instead, Transform Your Life! We offer meal plans with recipes that taste GREAT! Enjoy your food, live your life, and reach your goals!

Learn More
Healthy Recipes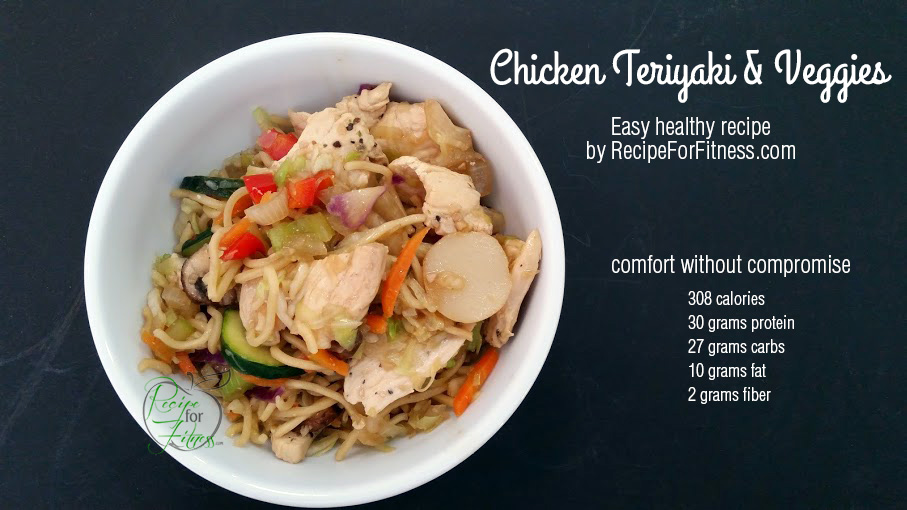 A couple times a year, I treat myself to this wonderful chicken teriyaki with soba noodles from a little restaurant nearby. I always order it the same way... no sauce (I have no idea what's in it), extra veggies, and double chicken... I've wanted to try making it at home, but never bothered to play around with the recipe... until recently. Using a variety of recipes as inspiration, I finally nailed it :-) And, I get to enjoy the sauce! Lol! There are lots of choices for the noodles - you can go with the yakisoba, gluten free glass or buckwheat noodles, or even zucchini noodles! Yep, I love my little Spiral Vegetable Slicer
and use it whenever I can and this is a great recipe for it!
Chicken Teriyaki with Veggies and Noodles
By Chelle Stafford
"Chicken Teriyaki comes together quickly, is packed full of healthy veggies and coated in a tasty teriyaki sauce!"

Ingredients
2 lb Chicken Breast, sliced thin
3 Tbsp Sessame Oil, separated
1/2 cup Bragg's Liquid Aminos (or coconut aminos, or low-sodium soy sauce)
2 Tbsp rice vinegar
1 Tbsp minced garlic
1 tsp minced ginger
1/4 tsp red chili pepper flakes
1/8 tsp black pepper
2 tsp arrowroot powder (or cornstarch)
4 cups raw cabbage, shredded
1/2 cup red pepper, diced
2 stalks celery, chopped
5 brown mushrooms, sliced
1 small zucchini, sliced
1 Medium Yellow Onion, roughly chopped
1/2 cup sliced water chestnuts
2 packages yakisoba noodles (7 oz each) OR Gluten Free noodles or zucchini noodles (see note below)
Directions
For the sauce: Whisk together the liquid aminos, 2 Tbsp rice vinegar, 1 tsp sesame oil, garlic, ginger, pepper flakes, pepper, and arrowroot powder. Set aside.
Heat 1 Tbsp oil in large skillet over medium high heat. Add chicken and cook, flipping often, until cooked through. Remove from skillet and set aside.
Heat 1 Tbsp oil in same skillet over medium high heat. Add all veggies except cabbage and water chestnuts. Cook, stirring frequently, until veggies reach desired softness.
While that is cooking, remove noodles from package and place in strainer. Rinse well, gently separating noodles. Set aside.
Add cabbage and 1/4 to 1/2 cup water to skillet, cover and cook about 2 minutes, until cabbage wilts slightly.
Remove lid, add chicken, water chestnuts, noodles, and sauce. Stir well, cover and cook another 2 minutes.
Serve.
NOTE
:
*Feel free to add, switch, eliminate or adjust the various veggies. I like a LOT of veggies, and the recipe reflects that.
TIPS
:
There are many options for noodles, from the ready-to-eat yakisoba to gluten free Soba or glass noodles, and more. Check out this link for more information on gluten free asian noodles. Additionally, you can replace the noodles altogether with Zucchini noodles.
Nutritional Information
Amount Per Serving Calories: 310 | Total Protein: 30g | Total Carbohydrate: 272g | Total Fat: 10g | Total Fiber: 2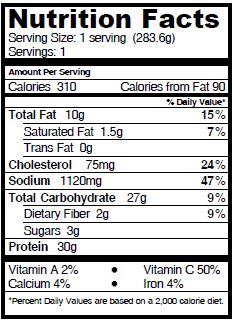 Special Note... CERTAIN PRODUCT LINKS THAT APPEAR ON THIS PAGE COME FROM AMAZON SERVICES LLC. THIS CONTENT IS PROVIDED 'AS IS' AND IS SUBJECT TO CHANGE OR REMOVAL AT ANY TIME. "Recipe for Fitness is a participant in the Amazon Services LLC Associates Program, an affiliate advertising program designed to provide a means for sites to earn advertising fees by advertising and linking to Amazon.com."