Ready to Succeed?
Don't "diet", instead, Transform Your Life! We offer meal plans with recipes that taste GREAT! Enjoy your food, live your life, and reach your goals!

Learn More
Healthy Recipes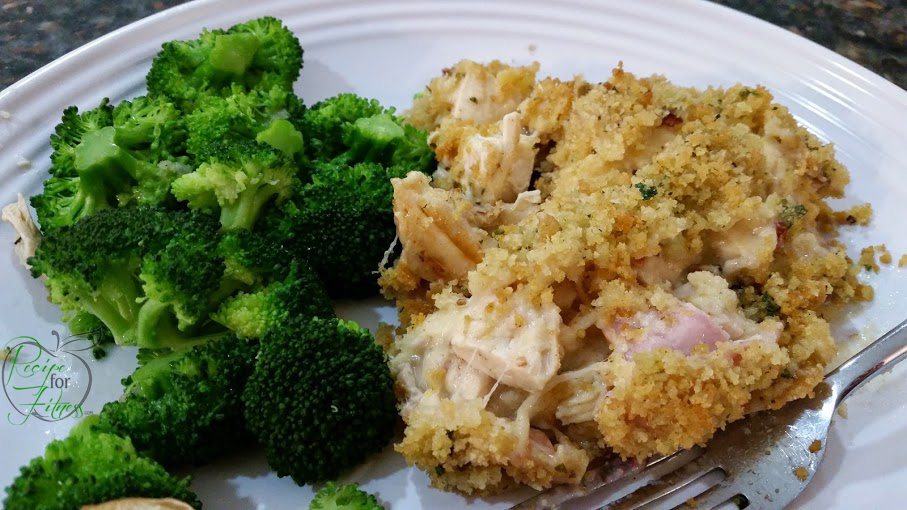 Time for some comfort food!! This recipe is so easy, and it's a simple matter to prep the ingredients during your One-Day Food Prep - just grill and dice the chicken, cook and chop the bacon, and store both in the fridge until you need them! See? Simple! You can have this yummy dish in the oven in about 5 minutes!
Chicken Cordon Blue Casserole
By Chelle Stafford
"Craving comfort food, but don't want to sabotage your goals? This tasty casserole will hit the spot! Creamy, cheesy, and hello - bacon! And still healthy!!"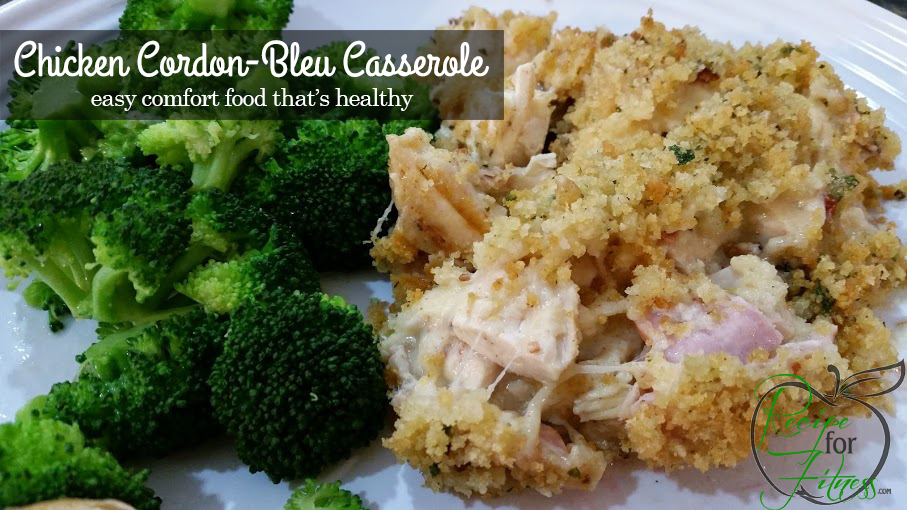 Serves 8
Ingredients
2 lb chicken, cooked and diced or shredded (*see note below)
1/2 lb thinly sliced deli ham (*see note below)
8 slices swiss cheese
4 slices uncured bacon

For the sauce...
4 Tbsp unsalted butter
4 Tbsp unbleached, unenriched all purpose flour (I use King Arthur)
3 1/4 cup milk
2 Tbsp fresh squeezed lemon juice (about 1 small lemon)
1 Tbsp coarse Dijon mustard
1 tsp garlic salt
1/2 tsp Smoked Paprika
1/4 tsp white pepper

For the topping...
6 Tbsp unsalted butter
1 1/2 cup Panko bread crumbs (*see note below)
3/4 tsp garlic salt
2 tsp chopped fresh parsley
Directions
Preheat oven to 350 F. Spray a 13x9 baking dish with cooking oil (I use olive oil).
In skillet, cook 4 slices of bacon (uncured) until crispy. Use a paper towel to remove excess grease, then chop bacon into small pieces.
Put cooked shredded or diced chicken on the bottom of the baking dish.
Rough chop the ham and scatter the pieces over the chicken.
Lay the swiss cheese slices over the ham layer (should be about 8 slices).
Sprinkle the bacon pieces evenly over the cheese layer.
For the sauce... Melt the 4 Tbsp butter in a large sauce pot over medium heat. When butter is melted, quickly stir in the flour to form a smooth paste (roux). Don't let it brown. Once it's smooth and begins to bubble, slowly add cold milk, while whisking constantly until it forms a smooth sauce. Allow to thicken, still stirring. Add lemon juice, Dijon mustard, garlic salt, smoked paprika and white pepper. Bring sauce to a low boil, then remove from heat. Pour sauce over the casserole evenly.
For the topping... Melt 6 Tbsp butter (microwave or stovetop). Stir in the panko crumbs, 3/4 tsp garlic salt, and fresh parsley. Sprinkle over the top of the casserole.
Bake uncovered for 45 minutes, until hot and bubbly throughout and topping has turned a light golden brown.
Remove from oven, allow to cool for 10 minutes.
Serve.
Nutritional Information
Amount Per Serving Calories: 400 | Total Protein: 38 g | Total Carbohydrate: 19 g | Total Fat: 19 g | Total Fiber: 1 g | Total Sodium: 750 mg

NOTES:
**You can reduce the sodium by replacing the garlic salt with Mrs Dash Garlic & Herb.
** You can substitute rotisserie chicken for grilled chicken. Use whole chicken, bones and skin removed and discarded. Shred or dice chicken. Look for a rotisserie chicken without fillers or added sodium.
** Deli meat - look for a clean brand - one without added fillers, low sodium. Applegate has a good one.
** You can substitute gluten-free panko for regular. I have not tried to make the roux (flour/milk paste) with gluten-free flour, so cannot say if it would work - if you choose to try it, my best recommendation would be to use a fine oat flour.