Ready to Succeed?
Don't "diet", instead, Transform Your Life! We offer meal plans with recipes that taste GREAT! Enjoy your food, live your life, and reach your goals!

Learn More
Healthy Recipes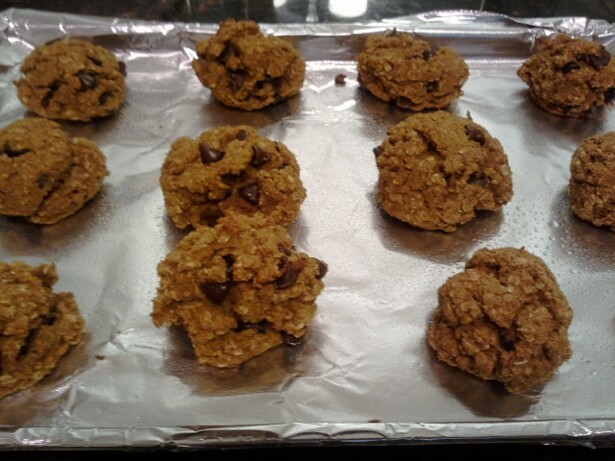 What's the Harvest Season without a pumpkin cookie? I'll tell ya... BORING! I headed to the kitchen to remake an old family favorite - and no one noticed the changes! Woot! Abso-yummo! These beauties are perfect for after a workout, or just as a snack with coffee! Enjoy!

Chelle's Chocolate
Chip Pumpkin Protein Cookies

Recipe by Chelle Stafford
Makes 12 cookies

Ingredients
1 cup quick oats
1/2 cup coconut flour
3 scoops protein powder (about 1 1/2 cups)
1 tsp baking soda
1 large egg
1 cup pumpkin (pure pumpkin, not pie mix)
2 Tbsp pumpkin pie spice
1/2 cup chocolate chips
Directions
Mix together all ingredients, adding chocolate chips last. If mixture is too dry, add a splash or two of unsweetened vanilla almond milk to moisten.

Line cookie sheet with foil, and drop spoonfulls onto sheet.

Bake at 350 for 15 minutes, cool on wire rack.

NOTE: protein powder - check the size of your scoop. In this recipe I used Champion's Pure Whey powder, and the scoop is just under 1/2 cup.

Nutrition per cookie:
142 calories, 9g protein, 17 g carbs, 5g fat. 138mg sodium, 4g fiber, 6g sugar.