Pumpkin Muffins with Cream Cheese Glaze
Ideal for a post-workout treat!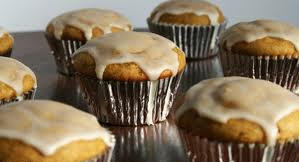 Preparation Time: 10 minutes Total time: 30 minutes
By Kitchen Table, August 3, 2009
Serves 1
Ingredients:
1 cup pumpkin puree (pure pumpkin, not pumpkin pie mix),
1/2 cup milk of choice (cow, almond, etc),
2 egg whites,
1/2 cup safflower oil (or unsweetened applesauce),
1/2 cup honey,
1 tsp pure vanilla extract,
2 cups whole wheat pastry flour,
1/4 tsp sea salt,
1 tsp baking soda,
2 tsp cinnamon,
1 tsp nutmeg,
1/2 tsp ginger,
1/2 tsp ground cloves,

For the frosting...
4 oz neufatchel cream cheese,
1 tsp vanilla,
1/4 cup honey,

Instructions:
Preheat oven to 350 degrees F.
Line cupcake tins with liners.
In a large bowl, whisk together pumpkin, milk, egg whites, oil, honey and vanilla.
In a second bowl, whisk together flour, salt, baking soda, cinnamon, nutmeg, ginger, and cloves.
Whisk the flour mixture into the liquid mixture and blend well.
Pour into tins. Bake 15-20 minutes or until a toothpick comes out clean.
Remove from oven, allow to cool to room temperature, then frost.

FROSTING:
Whisk all ingredients together until smooth. This is a "liquidy" frosting. I put mine in the fridge for about 30 minutes before using, then just drizzled it over the cupcakes.