Pumpkin Chocolate Chip Cookies, GF, DF
Perfect for fall, these cookies taste amazing - and no one will know they're gluten and dairy free!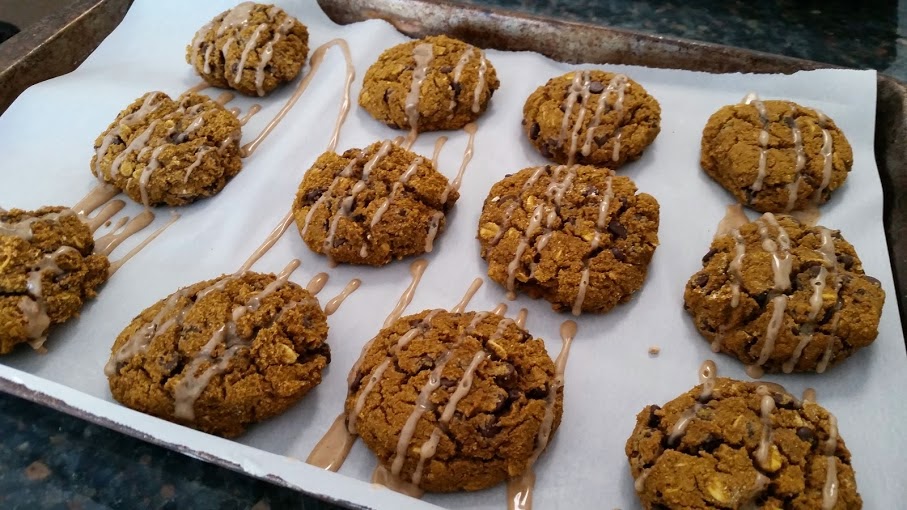 Preparation Time: 10 minutes Total time: 25 minutes
Serves 24
By Chelle Stafford, September 3, 2014
Ingredients:
1 cup canned 100% pumpkin (not pie mix),
2 eggs, 3 Tbsp virgin coconut oil, melted,
1 Tbsp vanilla extract or Vanilla Paste,
1/2 tsp sea salt,
1.5 cup oat flour,
1/2 cup quick oats,
1/2 cup coconut flour,
2.5 Tbsp pumpkin pie spice,
1 tsp baking powder,
1 tsp baking soda,
3/4 cup dark brown sugar,
1/3 cup Truvia Baking Blend,
1 cup Enjoy Life Semi-Sweet Chocolate Mini Chips,
1/2 cup unsweetened apple sauce.
Instructions:
Preheat oven to 350 degrees.
Line 2 cookie sheets with parchment paper.
In a small bowl, combine pumpkin, applesauce, coconut oil, eggs, and vanilla. Stir well.
In a large bowl, combine oat flour, oats, coconut flour, sea-salt, spice, baking powder, baking soda, brown sugar, and truvia.
Add wet ingredients to dry, stir until just combined.
Add chocolate chips, and stir until well incorporated.
If needed... add water, 2 Tbsp at a time, if mix becomes too dry, but be careful to incorporate it fully each time or your batter will be too wet.
Drop by rounded spoonful's onto cookie sheet, flattening tops slightly.
Bake 12 minutes, then begin checking undersides. The tops will still look slightly undone, but the bottoms will be golden brown. Continue baking as needed.
Remove to cool on hot pads or wire rack.
Optional Glaze
Ingredients:
1 cup powdered sugar,
1 Tbsp vanilla extract or Vanilla Paste,
1 Tsp - 1 Tbsp pure White Gold Honey,
1/2 tsp pumpkin pie spice,
*milk (or other liquid) as needed (I use almond milk).
Instructions: Mix together in small bowl until desired glaze consistency is reached. Pour glaze into a ziploc sandwich bag and seal. To glaze, snip small corner off bag, then squeeze. Drizzle over cookies.