Gluten Free Peach Pie with Streusel Topping
There's nothing like a hot bubbling piece of peach pie and this one delivers! Plus, no one will know it's gluten-free!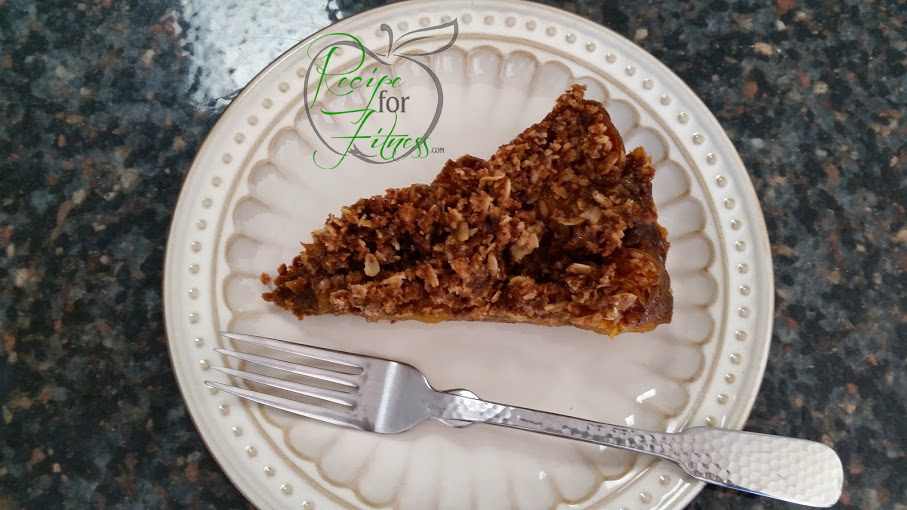 Preparation Time: 20 minutes Baking time: 30 minutes
By Chelle Stafford, November 17, 2014
Serves 8
Ingredients:
For the Filling:
2 lbs frozen peaches,
the juice of 1/2 an orange (about 2 Tbsp),
2 Tbsp unsalted butter,
1/4 cup raw honey,
1/4 cup pure maple syrup,
1/2 tsp vanilla (I used vanilla bean paste, you can use either),
1 tsp cinnamon,
1/4 tsp nutmeg,
1/4 tsp cardamom,
1/4 tsp ginger,
2 Tbsp arrowroot powder,
For the Crust:
1/2 cup coconut flour,
20 gingersnaps,
5 Tbsp unsalted butter,
For the Topping:
1/2 cup dark brown sugar,
2 packets instant maple & brown sugar oatmeal (can replace this with 1 cup old fashioned oats plus 3 Tbsp pure maple syrup),
1 tsp cinnamon,
4 Tbsp unsalted butter,

Instructions:
Preheat oven to 350 degrees.
In a large skillet or pot, melt 2 Tbsp butter over medium-high heat, add peaches and cook until softened.
In a small bowl, combine cinnamon, nutmeg, cardamom and ginger. Set aside.
In a food processor, blend gingersnaps until they resemble chunky flour. Add the coconut flour and mix well.
Dice cold butter (5 Tbsp), and add to the food processor, then blend until butter is mostly incorporated and you can easily pinch off a ball of "dough" and squish it (I know, real technical, right? You want it to be able to squish down into the skillet/pie plate and hold shape, rather than be mostly crumb you can blow away).
Spread crust batter into the bottom of a 10" cast iron skillet (or an 8x8 pyrex or pie plate). It will only cover the bottom and about 1/4 inch up the sides.
Bake in oven 10-15 minutes or until crust is golden. Remove and set aside.
In food processor, combine oatmeal packets, 1/2 cup dark brown sugar, 1 tsp cinnamon, and 4 Tbsp cold butter, diced. Pulse until you see small chunks (not as small as you did for the crust, just a bit bigger)
In a small bowl, combine honey, maple syrup, and vanilla, mixing until fully incorporated. Set aside.
When peaches have reached desired softness (you should be able to cut them easily), remove from heat and add the bowl of sweetener, stirring to combine well.
Add the spices, and mix well.
Pour mixture on top of crust, spreading it out evenly.
Sprinkle topping over the peaches.
Bake at 350 for 30 minutes, until streusel is golden and peaches are bubbling.
Remove to cool on hot pads or wire rack.