Microwave Protein Cupcake with Fudge Sauce
Perfect for whenever you need a chocolate kick! Easy to make, rich and tasty mug-cake!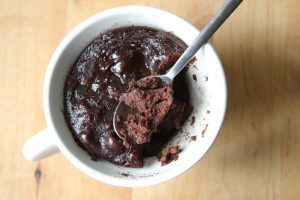 Preparation Time: 5 minutes Total time: 5 minutes
By Chelle Stafford, August 3, 2008
Serves 1
Ingredients:
1 scoop chocolate protein powder (see note below),
1 Tbsp plain greek yogurt,
1 pinch baking powder (seriously a pinch, just pinch it between your fingers),
1 dash sea-salt,
1 tsp Agave Nectar (or other sweetener - maple, honey, etc),
1 egg white,
1-2 Tbsp water to moisten,
Microwave safe mug,

For the fudge sauce...
2 Tbsp unsweetened cocoa powder,
1 Tbsp virgin coconut oil,
1 dash sea-salt,
1 splash pure vanilla extract,
1 Tbsp Agave Nectar (or sweetener of choice),

Instructions:
Mix all ingredients in a small bowl.
Spray inside of mug with oil (I use coconut oil).
Dump batter into mug.
Microwave for 1-2 minutes (I did 1 minute, then 20 second bursts until done)
This is HOT!! Be careful! While it's cooling (you want it warm, just not scorching), make the fudge sauce...
Mix together in a small glass bowl and microwave for 20 seconds. Stir well until you get a thick fudgy sauce.
Frost it over bites of the protein cupcake.


*Note - Protein Powder... If you don't like the way your powder tastes in a shake, you won't like it in recipes... The one that works best in this recipe is Beverly's Ultimate Muscle Protein Powder. I tried this recipe using the Vanilla powder, too, but it was a total fail. Yuck. Chocolate was the way to go! :-)