Ready to Succeed?
Don't "diet", instead, Transform Your Life! We offer meal plans with recipes that taste GREAT! Enjoy your food, live your life, and reach your goals!

Learn More
Healthy Recipes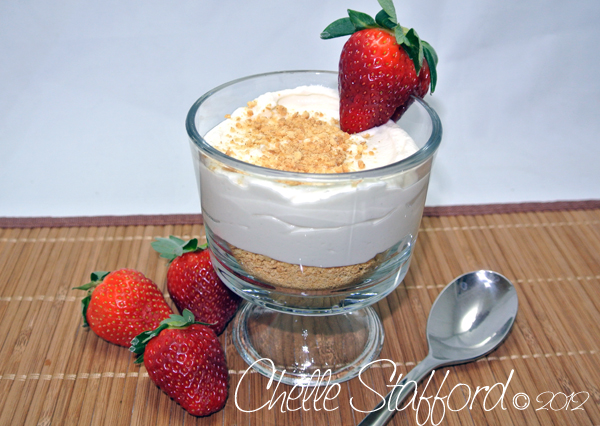 Time for Dessert! Being mindful of your diet doesn't have to mean depriving yourself of tasty treats. This high protein dessert makes a great ending to your day, providing casein – a type of protein that acts on a time-release, continuing to work on your hard-earned muscle throughout the night.

Guiltless Cheesecake

Recipe by Chelle Stafford
Makes 2 servings

Ingredients
1 cup plain greek yogurt
1 scoop vanilla protein powder (minimum 20g protein per scoop, my scoop = 1/3 cup)
1 graham cracker, crushed
2 strawberries

Directions
In a small bowl, carefully mix the yogurt and protein powder until blended, and then continue to mix until smooth.
Divide crumbs between two small dessert glasses, reserving 1 Tbsp of graham crumbs for topping.
Divide the protein-yogurt mixture between the glasses. Top with reserved crumbs.
Cover and refrigerate 2 hours.*
Serve with Strawberry as garnish.

Tip
Try different flavors of protein powder!

*Notes: The 2 hour chilling time is required to allow the powder and yogurt to blend, eliminating the "gritty" texture.
Use a protein powder with a flavor you enjoy. If you don't like your protein powder, you won't like recipes made with it.

Nutrition
Per serving: 198 calories, 23 g protein, 18 g carbs, 3 g fat.


As seen in World Physique Magazine Women, Spring 2012