Caramel Apple Pie
This is my go-to Thanksgiving Treat recipe for Caramel Apple Pie. Stunningly beautiful, and decadently tasty!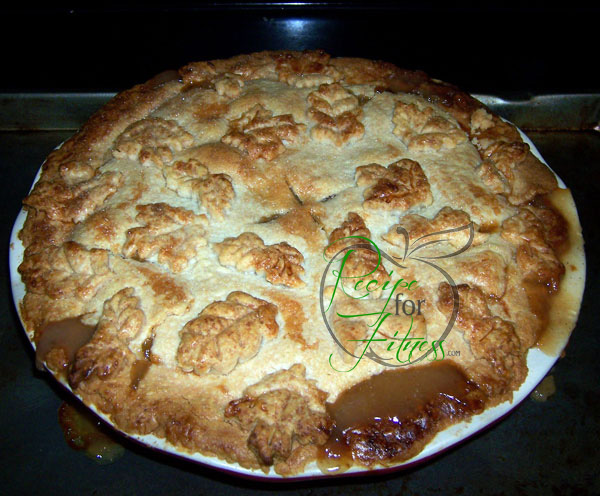 Preparation Time: 1 hour Total time: 2 hours
Serves 8
Ingredients:
2 rolled out rounds deep dish pie crust (see recipe here),

For the apples...
4 lbs Granny Smith apples, peeled, cored, and each cut into 8 slices,
1/2 cup firmly packed light brown sugar,
1/2 tsp cinnamon,
1/4 tsp nutmeg,
1 Tbsp fresh lemon juice,
3 Tbsp cornstarch,

For the caramel...
1 1/2 cups firmly packed light brown sugar,
1/3 cup light corn syrup,
6 Tbsp unsalted butter, cut into 6 pieces,
1/2 tsp sea-salt,
1/2 cup heavy cream,

1 egg white, beaten with 1 tsp water,
2 tsp granulated sugar,

Instructions:
Transfer 1 dough round to a 9-inch deep-dish pie dish and gently press into the dish. Trim the edges flush with the rim. Reroll the dough scraps and cut out shapes using decorative pie cutters. Refrigerate the pie shell, cutouts and remaining dough round for 30 minutes.

To prepare the apples, in a large Dutch oven over medium heat, stir together the apples, brown sugar, cinnamon, nutmeg and lemon juice. Cover and cook, stirring occasionally, until the apples are just tender, about 20 minutes. Uncover and let cool to room temperature. Stir in the cornstarch.

To prepare the caramel, in a heavy 4-quart saucepan over medium heat, combine the brown sugar, corn syrup, butter and salt. Cook until the mixture is bubbling vigorously, about 9 minutes, stirring only during the first 2 to 3 minutes of cooking. Off the heat, carefully stir in 1/4 cup of the cream, then stir in the remaining 1/4 cup cream. Let cool until just warm.
Preheat an oven to 400°F.

Let the pie shell, cutouts and dough round stand at room temperature for 5 minutes. In a large bowl, combine the apple mixture and 3/4 cup of the caramel; reserve the remaining caramel for serving. Pour the apple filling into the pie shell and place the top crust over the pie.
Trim the edges flush with the rim and press the top and bottom crusts together. Brush the underside of the cutouts with egg wash and gently arrange them on the pie. Brush the entire top crust with egg wash and sprinkle with the granulated sugar.

Place the pie dish on a baking sheet. Bake until the crust is golden brown, about 1 hour; check the pie after 30 minutes and cover the top and edges with foil if they become too dark. Let the pie cool on a wire rack for at least 2 1/2 hours before serving. Warm the reserved caramel sauce and serve alongside the pie for drizzling.