why infinite extent

For most of us, it takes many baby-steps to create a true lifestyle change. Part of mine, was food swaps. These baby steps weaned me off of products that I was using too much of, or simply shouldn't have been consuming at all. By swapping foods out, I was able to reduce my use (or eliminate it altogether). Once I went into maintenance phase, I began adding some items back in.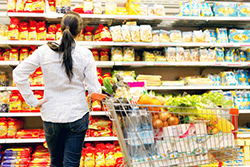 Easy Food Swaps & Tips
As with any food... read the label. Watch out for sodium levels, as well as sugar, saturated fats, and additives.


Margarine / "Butter Spreads" = Ditch the chemi spreads and pick up the real stuff. Butter is not your enemy, however, items labeled "low-fat" often are. Look for butter that is clean - ingredients should be "cream", maybe "cream, salt". Seriously. Compare that label to a tub of margarine. There are some terrific options, and my favorite is Kerrygold. I buy the unsalted for baking, the herb-butter for sautéing, and the little tub for everyday needs. It has amazing flavor, and the ingredient list is short and sweet. Other options include coconut oil, coconut butter, and of course, vegan options such as the spreads from Earth Balance.

Ground Beef = The highest percentage of fat free is best, but it's a lot pricier than the fattier meat. Save the cash... get the 80% beef, season & cook, drain, then rinse in hot water to remove the fat. Now return to the pan, add more seasoning and serve. It works like a charm with beef and bison. Another trick I use to make the meat go further is to finely chop an 8 oz container of brown mushrooms for every pound of meat and add it to the meat as it cooks. I do this for spaghetti meat, burgers, pretty much anything I use ground meat for (except for chili). No one knows it's in there!

Milk = Ditch the skim or low-fat milk. Studies have shown that consuming full fat dairy does NOT contribute to obesity or heart disease, and may, in fact, help prevent obesity. Go figure. If cow's milk isn't an option for you, try unsweetened almond milk, unsweetened almond & coconut milk. Please avoid soy milk (especially if you are trying to get pregnant).

Lettuce = Iceberg lettuce has almost zero nutritional value and Romaine isn't far behind. Start adding some serious vitamins & minerals by mixing it up... do 1/2 lettuce, and 1/2 shredded cabbage or baby spinach or both! Currently I'm on a Dino Kale kick, so I use shredded cabbage & spinach for wraps, and Kale for my salads. Also, shredded raw Brussels Sprouts are very similar to cabbage... tasty!

Salad Dressing = oil & vinegar, spray dressings (watch labels for added junk), lemon juice (my own choice), flavored olive oils, or for something spicy... mix 2 tbsp plain greek yogurt w/a few drops of sriracha (hot sauce).

Cheese = Same points here as above regarding milk. Full fat dairy is indeed the better cheese. Eliminate use of reduced-fat cheeses, and enjoy the full flavors and textures of the real deal. Need a Dairy Free option? Check out Daiya! Their mozzarella shreds are incredible! Spreadable cheese - Kite Hill makes a chive "cream cheese" that is absolutely unbelievable!

Sour Cream = Skip the light versions and pick up the full fat sour cream (see above Cheese). If you'd like a boost of protein, swap out your sour cream for plain greek yogurt or skyr.

Soda = Green Tea, Crystal Light sparingly, Pepsi One or Coke Zero if you just have to have one - (yes, I said ONE), fruit juice (watch carefully for % of juice... you want 100% juice, even if the sugar is higher... this is natural sugar that your body knows how to deal with, as opposed to the refined & processed stuff that it just stores and converts to fat because it doesn't know what else to do with it) and you can also cut your juice with water or sparkling water to reduce the sugar. I mention Crystal Light, because it's an easy substitute for soda, and baby steps are fine. Dump soda, drink crystal light. Then slowly wean yourself off it altogether. Your clean lifestyle does NOT include crystal light or soda except as an occasional treat.

Sugar = Sucanat (Sugar Cane Natural), Honey, Maple Syrup (pure), Stevia, Coconut Sugar, or Agave Nectar. Dump the white refined stuff. Also dump the sugar substitutes... they're NOT natural, they're created in a lab, and there's just too many questions about their toxicity. Use the real stuff (Sucanat) and use it sparingly. Alternatives to Sucanat: Turbinado, Demerara, Sugar in the Raw.

White Bread = Whole wheat bread (check the nutrition label, if the first ingredient listed isn't "whole wheat" then it's really not. Find one that is). Watch for sugar and sodium - bread is notorious for being a minefield of this stuff! Also keep an eye out for additives.

Hamburger buns... at least switch to a whole wheat variety, or a sandwich thin, but another option is to use large portabella mushroom caps. I love doing this, though I'm the only one in the family who does, lol. I simply spray with olive oil, sprinkle with mrs. dash and grill the cap on my George Foreman grill, then top with my burger and veggies. The caps are super juicy, so I only use one (open face burger), but very flavorful. Pop out the stem core, and using a spoon scrape out the black "gills". Rinse, drizzle, season, grill. Easy! Another option is to wrap your burger in green-leaf lettuce.

Chips / Crackers = Sliced raw turnips! Air popped popcorn; nut & rice crackers; seeds & nuts (we make a mix of walnut pieces, dried unsweetened apples and dark chocolate); raw veggies and tzaziki or salsa or cream cheese; pita chips and roasted red pepper hummus... there's so many good snacking options! Dr. Kracker is another favorite. If you can find them, Off the Cob has a tortilla chip that's non-gmo corn! Really tasty! Also, Tostitos & Ruffles both have clean versions of their chips! Click the images below...
Downloads and Custom Plans. Recipe For Fitness, offers a variety of nutrition plans as downloads, just choose the caloric-goal that's right for you. If you want a custom nutritional plan, designed for you and that will adjust with your progress, contact us.