Ready to Succeed?
Don't "diet", instead, Transform Your Life! We offer meal plans with recipes that taste GREAT! Enjoy your food, live your life, and reach your goals!
Learn More
Recipe For Fitness - Who Are We?
More than you EVER wanted to know...
After 40-something years, my dorkiness is not going to change. I did not outgrow it, it will not fade. It is me. I embrace it. I name it George. ;-) Want some proof that I'm a dweeb? Check out these blog posts. Go ahead, laugh. I'm used to it.
No, really, I AM A DANGER in yoga
There is a Star Wars reference for everything.
I am sneaky and engage in creative parenting
I fall for purses (it's toward the end, and refers to this: BEASTS )
I also lose battles with my mattress
I might have difficulty in knowing my limitations
I fall asleep in the sun and chase shrimp boats
I often have "one of those days"
And finally... at my mature age and sensibilities, I have finally learned to dance like no one is watching - even when someone is recording it and posting it to Facebook ;-)
Tosca and Chelle Booogie Woogie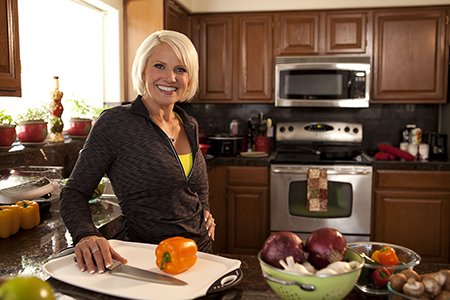 Oh, and see that knife I'm holding above?
Yeah, I dropped it during the photo shoot. ;-) My klutz knows no bounds.